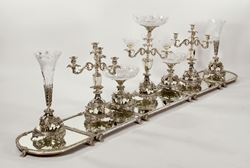 Beverly Hills, California (PRWEB) February 11, 2016
Kaminski Auctions has a full schedule of auction days in February 2016, beginning with an Unreserved Estate auction on Sunday, February 21st, followed by the second part of the Emily Hall Tremaine Collection on February 27th and the Fine Asian Art and Antiques auction February 28th, 2016.
The February 21st Unreserved Estate auction features an interesting modern piece of art by the American sculptor Terence Main (American 1954-) best known for his "Fourth Frond Chair "which is in the collection of the Metropolitan Museum of Art.
The piece is signed "1990" and was featured in "The Exhibition Catalogue Arte Industrie, New York", in 1996. A sculptural piece of furniture typical of Main's work, the cast bronze chair titled "Sidewinder" carries a conservative estimate of $5,000. -$10,000.
Paintings in the sale include a Laszlo Moholy-Nagy (Hungarian, 1895-1946), an abstract mixed media on cardboard, signed, and valued at $4,000-$6,000, a Sally Michel Avery (American, 1902-2003), titled "Moon and Drifting Clouds," circa 1988, a Daniel F. Wentworth (American, 1850-1934), titled "May Bloom," signed lower right in an ornate gilt frame and an American/Pennsylvania School painting of a barnyard with tree, unsigned, bearing a label marked "N. C. Wyeth.
Asian items of interest include a Chinese, 18th to 19th century, Qing Dynasty carved white jade mushroom pendant, double-sided with a butterfly carving on top and a 23 inch high bronze Buddha sculpture.
The February 27th auction features Part Two of the Emily Hall Tremaine collection. The top lots of the sale are a Paul Evans custom made dining table with a slate top, initialed" P. E." under the top estimated at $10,000-$20,000, an 18th century Abusson tapestry depicting an allegory of the four seasons, signed by the maker measuring 9' 3" x 13' 11" also estimated at $10,000-$20,000.
Noteworthy decorative art includes an Indian Revival surtout de table service, crafted of silver plate and cut glass, consisting of twelve pieces in total in the Victorian manner with motifs of elephants valued at $12,000- $18,000 and a Rene Lalique circa 1927 Art Deco clock titled "Deux Figurines". The clock features two beauties draped in diaphanous gowns with hanging floral wreaths around the black metal clock face. It sits on a bronze plinth with gilt scrolls. The clock is estimated at $4,000-$6,000.
Noteworthy art in the sale includes works by two Mexican artists Byron Galvez (Mexican, 1941-2009), and Juan Soriano (Mexican, 1920-2006). There is also a Hudson River School panoramic mountain view, a 19th century Dutch school winter scene and paintings by the French artist Constantin Kluge (French, 1912-2003).
An original photograph by Ansel Adams, "Sequoia Roots, Mariposa Grove, Yosemite National Park, California," set number 31 in "Portfolio Four: What Majestic Word" is estimated to bring $2,000-$4,000.
Jewelry highlights include several sets of men's 18K gold cufflink and stud sets with precious gems including, diamonds, sapphires, rubies and emeralds and semi precious stones of onyx and and coral. There is a ladies' 18K gold and cognac diamond engagement ring with a one carat center stone valued at $3,00-$3,500 and a 14 carat gold and sapphire Cartier clip pin valued at $1,800-$2,500.
Asian works of art include a Chinese gilt bronze seated figure of Buddha with Ming Dynasty mark valued at $7,000-$12000, a Chinese Ming Dynasty blue and white porcelain charger, a 19th century Chinese red glazed vase with bronze ormolu mounts and artworks by Zhang Minjie (Chinese, b. 1959), and Jin Jiazhen (Chinese, b. 1964). An outstanding pair of 19th century Chinese Ming Dynasty horseshoe back chairs is estimated to bring $3,000-$5,000.
There is also a fine selection of carpets in the sale from an important Arizona and Palm Beach estate including two 19th century French Aubusson carpets, an Oushak an antique Persian Ferahan, a Persian Kashan, a Heriz, Sultanabad and a Turkmen.
Among other pieces from the estate of Prudon Hall Smith, mother of Emily Hall Tremaine, are several David Herschler contemporary stainless steel sculptures including one titled "G-2," signed on the base, 38" high by 3" wide, another titled "2-B," measuring 65" high by 11"inches wide and "Spiritual Flight #35," a gold plated steel sculpture, signed and dated 1971 on the base measuring 42" high by 18" wide.
Preview times for these important sales and complete lot descriptions and estimates can be found on the Kaminski Auctions website http://www.kaminskiauctions.com. You can sign up to bid online with KaminskiLive for all three sales.