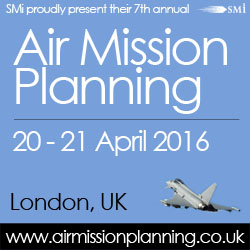 This unique event will include hand-picked presentations and case studies from those at the forefront of the discipline - SMi Group
London (PRWEB UK) 11 February 2016
SMi Group reports: Colonel Olivier Maurer, Officer Commanding the NATO Analysis and Simulation Centre for Air Operations, French Air Force has joined expert speaker line up for Air Mission Planning 2016 and will be speaking on Day Two of the conference.
In his unique presentation entitled "The French Approach to Providing Command and Control to Combat Air Craft: A Focus on Mission Support" Colonel Maurer will discuss the role that both ground based and airborne command and control have to play in delivering real time mission support and intelligence to combat air and the potential for future upgrades and system integration.
Further details on this presentation, the complete 2-day event agenda for Air Mission Planning 2016 including all speakers and their topics are available at http://www.airmissionplanning.co.uk/prweb
Hosted over two days, Air Mission Planning 2016 will place particular focus on command and control, for real time tasking and decision making. This unique event will include hand-picked presentations and case studies from those at the forefront of the discipline.
Day One will feature updates from the UK MoD, US Air Force, Italian Air Force Staff, NATO AEW&C, NCIA and Netherlands Aerospace Centre, with a focus on the planning process for air operations and real time mission support. Day One will also feature a panel discussion on "Contemporary Concepts of Operation for Successful and Safe Air Mission Planning in Challenging Environments".
Day Two explores the challenges of planning air missions within shared airspace, the latest mission support systems being developed by BAE Systems, as well as the findings of the NATO Analysis and Simulation Centre for Air Operations. Speakers for Day Two include French Air Force, NATO, Movement Coordination Centre Europe, Czech Air Force and many more.
To register or to download the full agenda visit the event website http://www.airmissionplanning.co.uk/prweb
Benefits of Attending Air Mission Planning 2016:

Deliberate the requirements of the contemporary operational environment
Develop advanced strategies for the planning process
Explore Interoperability for coalition operations and joint fires
Hear the very latest technological developments from research and industry, that are enhancing mission support, reducing workload and improving combat effectiveness
There is currently an early bird offer saving £200 off the conference price which is available until 29th February 2016. For further information about Air Mission Planning 2016 or to register please visit the event website http://www.airmissionplanning.co.uk/prweb
Air Mission Planning 2016 gold sponsor is HP Enterprise Services UK Ltd. The 2016 event will also be sponsored by BAE Systems.
For sponsorship enquiries contact Sadia Malick on +44 (0) 207 827 6748 or email smalick(at)smi-online.co.uk
For media enquiries contact Julia Rotar on + 44 (0) 207 827 6088 or email jrotar(at)smi-online.co.uk
For delegate enquiries contact James Hitchen on +44 (0) 207 827 6054 or email to jhitchen(at)smi-online.co.uk
7th annual Air Mission Planning Conference
20-21 April 2016,
London, UK
http://www.airmissionplanning.co.uk/prweb
Contact e-mail: jrotar(at)smi-online.co.uk
Contact tel: +44 (0) 207 827 6054
---- END ----
About SMi Group: Established since 1993, the SMi Group is a global event-production company that specializes in Business-to-Business Conferences, Workshops, Masterclasses and online Communities. We create and deliver events in the Defence, Security, Energy, Utilities, Finance and Pharmaceutical industries. We pride ourselves on having access to the worlds most forward thinking opinion leaders and visionaries, allowing us to bring our communities together to Learn, Engage, Share and Network. More information can be found at http://www.smi-online.co.uk