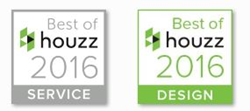 We are excited in looking towards the future and the ways we will better be able to service our customers in Northern Virginia with their home services and remodeling needs
Chantilly, VA (PRWEB) February 12, 2016
Moss Building and Design is proud to announce their 2016 Best of Houzz win in Design and Service. The announcement comes following their 6th consecutive Super Service Award from Angie's List and adds on to the many accolades they earned in 2015 including Best Remodeler by Arlington Magazine, and Best of NOVA by Northern Virginia Magazine.
For their Best of Houzz 2016 awards in both design and service, MOSS was chosen by the 35 million monthly unique users that comprise the Houzz community from more than one million active home building, remodeling and design industry professionals. To be awarded Best of Houzz in design, Moss Building and Design's work was among the most popular among the more than 35 million monthly users on Houzz. For their Best of Houzz in service, MOSS was measured based on the the number and quality of client reviews they received in 2015.
"To achieve these Best of Houzz awards for 2016 following our other accolades in 2015 is truly special. We are excited in looking towards the future and the ways we will better be able to service our customers in Northern Virginia with their home services and remodeling needs," said Marketing Manager, Carly McAlister.
About Moss Building & Design and Moss Home Services:
Moss Building & Design and Moss Home Services is an award-winning residential remodeling and home services company located in Chantilly, Virginia. As a trusted home improvement company in Northern Virginia, MOSS focuses on providing customer service that is unparalleled by any other contractors in the area. Through trust, transparency and character, MOSS builds lifelong relationships with their customers.
Since 2001, MOSS has established a reputation for excellence in remodeling additions, kitchens, bathrooms, basements and home services throughout Northern Virginia. Their customers see them as a trusted partner, and MOSS is very proud that over 85% of their customers consider themselves 'customers for life.' Moss Building & Design has won consumer awards from Angie's List for five consecutive years and also has an A+ rating from the Better Business Bureau as well as many industry building and design awards.