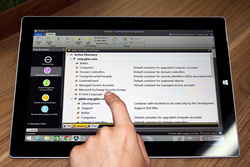 Goverlan is perfect for use on tablets running Windows 10 like the Microsoft Surface
Miami, Florida (PRWEB) February 16, 2016
Today, Goverlan, a leader in IT remote management and monitoring software, announced the release and general availability of Goverlan version 8.01.10. Goverlan v8.01.10 adds support for Windows 10, devices with Higher Dots Per Inch (DPI) densities, and multi-touch displays and tablets.
Goverlan is a suite of products that enable IT administrators and desktop support technicians to control, manage, and support Windows environments in real-time. Recent surveys indicate that Windows 10 adoption is happening twice as fast as Windows 8 within 6 month of availability. With this latest release Goverlan introduces full support for Windows 10 as well as support for tablet devices running Windows 10, like the Microsoft Surface.
Added support for Windows 10 machines includes automated Active Directory provisioning and management, giving administrators a great tool to automate desktop migrations. Administrators can also download and install Goverlan on Microsoft Surface and other Windows 10 tablets and easily navigate and use the product with common touch and gesture movements, including touch to click, drag scrolling or sliding, and pinch to zoom.
Goverlan CEO, Pascal Bergeot explains: "This enhancement is a direct response to the growing popularity of Windows 10 and the Microsoft Surface. Goverlan is a powerful yet light-weight solution, making it perfect for use on tablet devices running Windows. Tablets today have as much, if not way more computing power than many desktops still running Goverlan. Now the IT Admin on-the-go can have powerful tools on their new powerful devices!"
Product Version Details
Goverlan v8.01.10 is a free-upgrade for all existing Goverlan customers with active maintenance. New customers and prospects can try a fully-functional 30-day version of v8.01.10 by download the Goverlan trial found here:
http://www.goverlan.com/landing_pages/request_freeTrial.php
Learn more about Goverlan: http://www.goverlan.com
Product Details
The Goverlan Remote Administration Suite is an easy-to-use all-in-one client systems management solution designed to simplify and accelerate IT support within small, mid-sized, and enterprise organizations.
Goverlan allows IT support staff to globally and dynamically control, manage, and support physical and virtual desktop infrastructures in real-time with minimal user interruption. By combining best-of-breed remote control, powerful support tools, detailed system reporting, and automated configuration and task management, Goverlan gets administrators to the root of problems quickly, resolving client issues more efficiently.
About Goverlan:
Goverlan®, Inc. is a leading provider of IT systems support and remote management software solutions. Goverlan solutions provide innovative and simplified ways for businesses to address remote IT administration needs. At Goverlan, client feedback drives engineering to help create products that are efficient, secure and robust. With this client-centric philosophy, Goverlan continues to grow and service organizations spanning over 110 countries and 17 industries, securing a solid reputation in the IT RMM world.
Established in 1998, Goverlan is a privately-held software company headquartered in Miami, FL. Goverlan creates, markets, and sells award-winning software solutions. Chosen by IT professional worldwide, Goverlan is renowned for its ease-of-use and extensive feature set. Learn more at http://www.goverlan.com or contact Goverlan at sales(at)goverlan(dot)com.