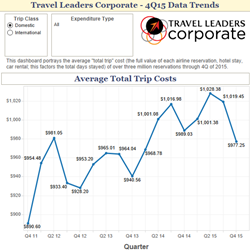 "The sizeable drop in average airfares – to 2013 levels –is a very positive development for our corporate accounts," said Travel Leaders Corporate President David Holyoke.
Miami, FL (PRWEB) February 11, 2016
Today, Travel Leaders Corporate – the leading name in business travel – released an analysis of its business travel clients' aggregated booking data from the fourth quarter of 2015. Corporate clients reaped the benefits of low jet fuel costs and a strong US dollar, which in turn drove the cost of domestic and international airline tickets even lower. Average car rental rates continued their downward trend, dropping to a national average base-rate of $38.88 per day, an 8% drop since 2013, with 5% of the drop coming in 2015 alone. For the first time, Travel Leaders Corporate is making data available for average base rates for rental cars in the top 25 U.S. cities.
"The sizeable drop in average airfares – to 2013 levels –is a very positive development for our corporate accounts," said Travel Leaders Corporate President David Holyoke. "The decreases in fourth quarter are consistent with those we've seen over the last five years. However, the most recent quarterly decline brought the average cost down to 2012 levels. The contributing factors include the lowest fuel prices we've seen in many years and an array of ancillary fees that have offset ticket prices."
The average cost of international business trips has decreased by more than 13% over the last year alone – a second consecutive record low for Travel Leaders Corporate clients. "International travel is where the strong dollar really flexes its muscle," continued Holyoke. "Our corporate clients have added peace of mind that they're maximizing every dollar spent on their international trips. The cost savings are immense."
Other Key Findings:

Hotel: Consistent with previous years, Travel Leaders Corporate has found that hotel prices had a significant decrease during the fourth quarter. However, the decrease was more pronounced in 2015 with average domestic and international hotel costs each declining nearly 5% from the previous quarter.
Air: Travel Leaders Corporate also recently released data on base airfares. Continuing a pattern from the last several years, domestic airfares decreased substantially in the fourth quarter. The drops have been significantly more pronounced in both 2014 and 2015. International airfares continued to plunge, dropping to $1,521.69 average cost per ticket (a new record low among data released by Travel Leaders Corporate), a drop of nearly $170 since the second quarter of 2015 alone.
Car Rental: For the first time, Travel Leaders Corporate statistics for base rental car rates are now available for the top 25 American markets. From a high average base-rate of $45 during the fourth quarter of 2011, rates have hit a new all-time low within Travel Leaders Corporate data of $38.88 nationally, dropping for a third consecutive quarter. The market with the most significant decrease is Las Vegas, where base-rates declined 18% since 2013.
"Travel Leaders Corporate's city by city data for rental car base-rates present a more nuanced picture of the rental car market around the United States," stated Holyoke. "While on average, we see a continued decrease in the base-rate across the country, there are several markets bucking that trend, as well as others clearly driving it – all without respect to any geographic pattern. For example, since 2013, Detroit has seen the largest base-rate increase of 15%, followed by Fort Lauderdale at 13%. Meanwhile, the largest decreases were posted in Las Vegas, down 18%, and Tampa, down by 17%. These nuances make working with a Travel Management Company even more valuable and crucial since we know how to gain the best value for our clients, regardless of where they're traveling."
For more information or to take advantage of Travel Leaders Corporate's personalized service and cutting-edge corporate business travel solutions that provide a complete travel enrichment experience, email partnerships(at)travelleaders(dot)com or call 877-404-4173.
###
Travel Leaders Corporate is part of Travel Leaders Group, which is the highest ranking American travel management company in Business Travel News' Business Travel Survey 2015, and had sales of nearly $20 billion in 2014. Travel Leaders Corporate's consultative approach builds a travel program around clients' specific needs, rather than requiring them to conform to standardized processes. Unlike mega-agencies, Travel Leaders Corporate provides personalized service that can't be matched in nameless, faceless call centers. At Travel Leaders Corporate, each client is served by a dedicated team of U.S.-based agents assigned to each account. With a reputation built on reliability and a commitment to excellence, Travel Leaders Corporate offers its clients industry-leading products and services, and continuously seeks higher levels of performance. Headquartered in Miami, FL, and with employees in more than 120 cities across the United States, Travel Leaders Corporate is a forward-thinking, innovative company with a focus on continually improving the customer experience. http://www.trvlldrs.com/