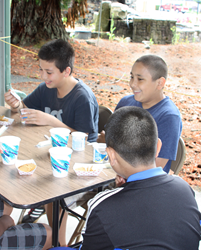 Portland, Oregon (PRWEB) February 16, 2016
Pathfinders of Oregon has been awarded a grant from the Spirit Mountain Community Fund. The grant will support Pathfinders' Mentoring Inside Out program for children whose parents are involved in the criminal justice system.
Separation from a parent can be traumatic for any child, but when the separation is caused by a parent's incarceration, it can be even more difficult. Children whose parents are involved with the justice system are at increased risk for depression, anxiety, withdrawal, delinquency, substance abuse, behavior problems, and school issues including school failure. Parental incarceration is also linked with poor health when youth become adults.
Pathfinders of Oregon created the Mentoring Inside Out program to support children of incarcerated parents by providing them with an adult who can help them navigate their challenges, celebrate their successes and just be a friend. The Mentoring Inside Out experience is individualized to each youth's interests and needs. Together, the youth and their mentor develop a plan that identifies goals and plans for academic achievement, social and family relationships and engaging in community activities.
Pathfinders' Center for Family Success offers Mentoring Inside Out to youth and families living in East Multnomah County. The Center for Family Success serves families that have a parent involved in the criminal justice system, offering a range of services including, the evidence-based Parenting Inside Out program, family advocacy, home visiting and mentoring. The Center helps criminal justice involved parents build parenting skills, navigate the justice and child welfare systems, reestablish contact with their children after prison and when appropriate, reunify with their families.
Parents and caregivers enrolled in the Mentoring Inside Out will receive resources to help them support their youth. The program includes activities to help families overcome social isolation, develop relationships with their peers, and wrap around services such as support groups, service referrals and emergency family assistance.
The Spirit Mountain Community Fund has previously supported Pathfinders' work with children of incarcerated parents through a project that created resource materials for social workers, educators and law enforcement officers who work with these children. This new grant will continue Spirit Mountain Community Fund's commitment to ensuring that vulnerable youth have a chance to succeed.
About Pathfinders of Oregon
Pathfinders of Oregon is a 501(c) 3 organization whose mission is to break the cycle of criminality. Pathfinders has taught programs within the Oregon Department of Corrections for more than 20 years. In the community it offers programs to families impacted by the criminal justice system through its Center for Family Success in Rockwood and east Multnomah County