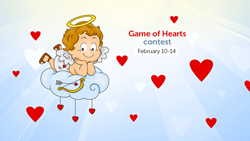 Atlanta, Georgia (PRWEB) February 12, 2016
Expats worldwide are invited by MobileRecharge.com to spend the week before Valentine's Day playing Game of Hearts, a 2 minute fun game that will get them the chance to win a free top up abroad. The game is especially designed for everyone and it is very dynamic. Anyone who collects 400 points has the chance to send a maximum of $15 mobile credit to a prepaid mobile. Winners will be announced every day by email. The game is available between February 10-14 on this page: http://mobilerecharge.com/promo/cupid_game
Playfulness is how MobileRecharge.com decided to celebrate Valentine's Day this year. It doesn't matter what age participants are; this game gives anyone playing it the chance to have fun, and enter the raffle for a top up gift for a mobile abroad.
The prizes can be used to refill a participant's own mobile or may be re-gifted because the winners can send the top up to someone they love back home in one of the countries available on MobileRecharge.com. After all, Valentine's Day is a good occasion to send some mobile credit as a gift in case the lovebirds are living miles away from each other.
Game of Hearts is both a role playing game and a strategic one, with a level that is intermediate or high, depending on everyone's experience. The scenario is pretty simple, though. The player is Cupid and he or she needs to do is avoid the ducks and shoot the heart-shape balloons. The interface is simple but really dynamic.
Those who enroll will have 120 seconds to collect 400 points and enter the random pick at the end of the day. Once the minimum of 400 points is collected, they automatically enter the winner's random pick session that can bring them mobile credit as a gift for their friends or family, or even for their own use. More details can be found on the game page, or MobileRecharge.com blog: http://blog.mobilerecharge.com/news/how-to-celebrate-valentines-day-playing-and-getting-a-free-mobile-top-up-too/
The service on MobileRecharge.com is also highly used by temporary residents or travellers in Europe to top up their local SIMs. And since there are more than 350 operators available on MobileRecharge.com, chances are big that one should be able to top up his or her local phone online, wherever they are in the world and use the credit according to the local network terms.
Every 2 minutes someone new joins MobileRecharge.com for several reasons that fans mention on review platforms:
-Transactions are 100% safe; the service bears the label "Verified & Certified."
-Paypal payment is accepted besides all major cards, no matter the currency or country of the customer.
-The service is among the easiest to use on the global market.
-There are daily promotions always running on the "Promotions" page, or on the MobileRecharge app.
-MobileRecharge app is available for Spanish or English speakers who want to refill on the go.
-The website is available in several languages: English, Spanish, German, French and Italian.
-All fans meet on Facebook, G+ and Twitter to keep up with the on-going promotions. The expat community on MobileRecharge.com Facebook page: https://www.facebook.com/MobileRecharge.Fan
-Customer Service is seen as highly supportive; it is available 24/7 in both Spanish and English, and other international languages.
-Video tutorials are available on YouTube for independent users on MobileRecharge.com page.
MobileRecharge.com is an interactive website designed by KeepCalling, a global telecommunications company registered in 2002 in USA. Presently, KeepCalling provides its services to hundreds of thousands of consumers and businesses, with a focus on customer satisfaction. KeepCalling has been listed by Inc 5000 as one of the fastest growing companies in the USA for 5 consecutive years. In 2015 the company registered a revenue increase of over 200% from 2011 to 2014. MobileRecharge.com is the first brand in history who initiated on November 10, 2015 World Top Up Day to celebrate top up givers worldwide.