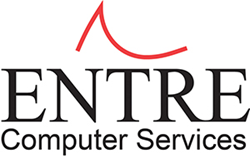 There is a heightening need to deliver better security solutions...
Rochester, NY (PRWEB) February 15, 2016
Entre Computer Services, Inc. is pleased to announce a partnership with LockPath http://www.lockpath.com and their award winning "Keylight®" Governance, Risk and Compliance (GRC) solution.
Entre President, Andre Godfrey, remarked on the new partnership, "LockPath and its Keylight® product is impressive. There is a heightening need to deliver better security solutions for our customers and address the concerns of their CEOs and our partnership with a best in class GRC solution from LockPath enables us to substantively address those concerns. The Keylight® platform integrates business processes to simplify risk management and regulatory compliance challenges."
About Entre
For more than 30 years, businesses have relied on Entre Computer Services for wide-ranging technology services. From IT managed services and Web & application development to network services and supplemental IT staffing. Entre is headquartered in Rochester, New York and serves clients regionally and nationally.
Entre staff includes some of the best networking and application engineers, technicians, managers, graphic designers, data architects, developers, and business consultants in the industry. Utilizing our core services, we provide business solutions which include information systems consulting and project management, network and server engineering, outsourced end-user support, supplemental IT staffing, hardware and software sales, and installations/implementations. Entre is also the developer of eScreenz™ - its outstanding internal and mobile communication application. http://www.escreenz.com
About Lockpath
LockPath is a market leader in corporate governance, risk management, regulatory compliance (GRC) and information security (InfoSec) software. The company's flexible, scalable and fully integrated suite of applications is used by organizations to automate business processes, reduce enterprise risk and demonstrate regulatory compliance to achieve audit-ready status. LockPath serves a client base of global organizations ranging from small and midsize companies to Fortune 10 enterprises in more than 15 industries. The company is headquartered in Overland Park, Kansas.