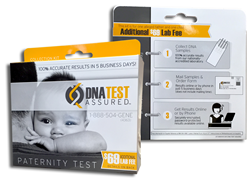 Salt Lake City, UT (PRWEB) February 11, 2016
DNA Test Assured, a new home paternity testing kit, is now available for purchase in Family Dollar stores in Alabama, Florida, Georgia, Louisiana, and Mississippi.
The DNA Test Assured Paternity Testing Kit allows customers to collect DNA samples quickly and easily with a cheek swab in the comfort of their own homes, then mail the samples to a highly-accredited lab. 100% accurate and confidential paternity results are provided online in just five (5) days. With a retail cost of five dollars and low lab fee of $69, DNA Test Assured offers the most affordable paternity testing kit on the market today.
To find a Family Dollar store that offers the DNA Test Assured kit, click here.
Doug Fogg, President and COO of Sorenson Genomics, DNA Test Assured's parent company, says, "We are pleased to provide a low-cost, high-quality home paternity test. We tell customers they don't have to pay a small fortune to get answers to their big questions."
About DNA Test Assured
DNA Test Assured is a low-cost, high-quality DNA paternity testing kit currently sold exclusively in select Family Dollar stores. The brand is a part of the Sorenson Genomics group of retail DNA-testing products. The Sorenson Genomics lab is nationally and internationally accredited for both DNA paternity and molecular diagnostic testing services. Sorenson Genomics is renowned for its expertise in human identity, forensic DNA testing and population genetics.
Visit http:// DNAtestAssured.com for complete resources, including a store locator, FAQs and more. Connect with DNA Test Assured on Facebook or follow the company on Twitter at @TestAssured.
Contact:
Carolyn Engerman
Sorenson Genomics Marketing Specialist
cengerman(at)sorensongenomics(dot)com
801-462-1476