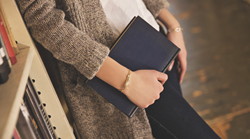 "I'm incredibly impressed with how SASHA LIV makes the high quality of sterling silver affordable and accessible without sacrificing craftsmanship," says Michael Mota, Atom's C.E.O. and former Alex & Ani Executive
New York, NY (PRWEB) February 11, 2016
SASHA LIV, a unique brand, has launched into the marketplace as a lifestyle brand for both young and mature consumers. Inspired and ingenious in their blending of form and function, SASHA LIV bracelets set new standards for quality (sterling silver), and functionality and durability (patented clasps, adjuster beads).
Giovanni Feroce, named one of the Top 50 power players in the Jewelry and Watches industry by JCK and the mastermind behind the overnight success of the Alex and Ani brand, took one quick look at SASHA LIV and understood its artistic and commercial virtues. "There is an unmatched style connected to these designs," Feroce says. "It's a reflection of what's at originator Sasha Yakubovich's core – he was born an artist in a land where legend and myth are among life's greatest inspirations. And the affordable, no fuss, adjustable jewelry he designs is meant to truly communicate fashion."
SASHA LIV designs immediately capture the eye and set the pulse racing. In its conjoining of Old World mysticism and New World energy and tastes, SASHA LIV is somehow timeless yet very much of our time.
SASHA LIV is launching with major collections inspired by Sasha's life, interests and passions. The high quality sterling silver bracelets are so affordable that multiple designs can easily be purchased simultaneously – ideal for layering and gifting. The brand is being introduced worldwide first through an e-commerce platform that, much like the brand, is simple and elegant. This customized site allows consumers not only to purchase the quality sterling silver bracelets, but also immerse themselves in the brand by engaging in the Lookbook, reading the SASHA LIV blog, and signing up to receive e-mails from SASHA LIV.
Feroce introduced SASHA LIV to ATOM Media Group, the Rhode Island-based advertising and marketing agency that has redefined and reinvigorated its industry. Atom's C.E.O. Michael Mota is the former Alex & Ani Executive who propelled the organization from a small, regional company with $2 million in sales into a global lifestyle brand with annual revenues in excess of $250 million, now valued at over a billion dollars. "I'm incredibly impressed with how SASHA LIV makes the high quality of sterling silver affordable and accessible without sacrificing craftsmanship," says Mota. "Its unique patented clasp eliminates all of the struggle associated with traditional clasps, and the brilliance of these pieces' designs is simply unrivaled. I'm proud to help bring SASHA LIV to the world."
Within the next year, SASHA LIV will be introduced to hundreds of stores nationwide, expanding into additional lifestyle products, and launching a search for a brand ambassador.
SASHA LIV: It's Time We Met.
To learn more about SASHA LIV visit http://www.SASHALIV.com
###