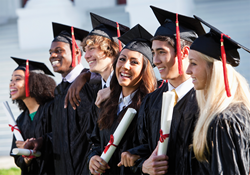 We wanted to help them to afford a college education to pursue their dreams
Oklahoma City, OK (PRWEB) February 11, 2016
180 Medical, a leading catheter and ostomy supplier, would like to announce that it is currently accepting applications for its 2016 College Scholarship Program. The Oklahoma City-based company began accepting applications on January 1st and will continue to accept application packets from eligible students until June 1st. Interested students can find more information and application instructions at http://www.180medical.com/scholarships.
Eligible students must be under a doctor's care for spina bifida, a spinal cord injury, transverse myelitis, a condition causing a neurogenic bladder, or an ostomy (ileostomy, colostomy, or urostomy). In addition to this, they must be U.S. citizens and intend to study at a U.S. institution for the Fall 2016 semester in pursuit of their Associate, Bachelor, or Graduate degree. There will be seven $1000 scholarships awarded in total.
"Considering that many of these students and their families are already dealing with some financial burden due to their medical condition, we wanted to help them to afford a college education to pursue their dreams," Todd Brown, founder of 180 Medical, said.
Interested applicants are asked to submit their scholarship application and relevant materials, including academic transcripts, in one packet. A completed application packet will include the application itself, typed questions and essay, physician's statement of diagnosis, most recent official transcript, and a college acceptance letter or other document verifying acceptance or current enrollment.
Application packets can be sent by mail at 180 Medical Attn: Scholarship Committee, 8516 NW Expressway, Oklahoma City, OK 73162 or email at scholarships(at)180medical(dot)com.
About 180 Medical:
180 Medical is one of America's top providers of sterile-use catheters and ostomy and urologic disposable medical supplies, via home-delivery. Based in Oklahoma City, the company is dedicated to serving the supply needs of customers with chronic medical diagnoses such as urinary incontinence, spinal cord injuries, spina bifida, colon cancer, Crohn's disease, and many other conditions that require catheterization and ostomy supplies. 180 Medical is a subsidiary of ConvaTec, a leading global medical products and technologies company. For more information, please visit http://www.180medical.com.