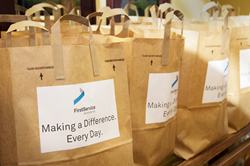 It makes me genuinely proud to work with a team who actively demonstrates our core values and mission each and every day.
Scottsdale, Ariz. (PRWEB) February 22, 2016
FirstService Residential recently organized a team building donation exercise for their company annual meeting benefiting Save the Family Foundation of Arizona. This company project was just another way to instill in their associates the true meaning of being genuinely helpful and living up to their company core values. Out of the FirstService Residential Arizona team, 180 associates rallied together in departmental teams along with a few lead industry vendors, each tasked with collecting a specific hygiene item including shampoo, bar soap, toothbrushes, toothpaste, washcloths, deodorant, and hand sanitizer. The care packages that the FirstService Residential team members assembled totaled over $2,800 - a significant donation to benefit families within the Save the Family program. Items were collected in the weeks leading up to the company's annual meeting held on January 22, 2016, and assembled as part of a team building exercise that day.
Save the Family is a local non-profit organization dedicated to helping empower families that may have come from a domestic abuse or homeless situation and give them the tools and resources to achieve life-long independence. Save the Family began serving the homeless in 1989 after acquiring four housing units, and has continued to grow drastically ever since, now operating over 200 housing units Valley wide.
"At FirstService Residential Arizona, we are committed to giving back to our community and making a difference in the lives of Arizona families," said John Kemper, president of FirstService Residential in Arizona. "It makes me genuinely proud to work with a team who actively demonstrates our core values and mission each and every day."
About FirstService Residential
FirstService Residential provides full-service community management solutions to a wide range of homeowner and condominium associations including some of Arizona's most beautiful and recognizable communities. Since 1968, the organization has worked hard to serve the homeowners of Arizona, and today, is recognized as the leading HOA management company throughout the state. Ranking Arizona has named FirstService Residential as Arizona's top choice of HOA management companies for the 10th consecutive year.
FirstService Residential is North America's largest manager of residential communities and the preferred partner of HOAs, community associations and strata corporations in the U.S. and Canada. FirstService Residential's managed communities include low-, mid- and high-rise condominiums and cooperatives, single-family homes, master-planned, lifestyle and active adult communities, and rental and commercial properties.
With an unmatched combination of deep industry experience, local market expertise and personalized attention, FirstService Residential delivers proven solutions and exceptional service that add value, enhance lifestyles and make a difference, every day, for every resident and community it manages. FirstService Residential is a subsidiary of FirstService Corporation, a North American leader in the property services sector. For more information, visit http://www.fsresidential.com.
###