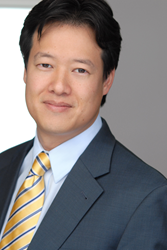 "Victor's hands-on experience starting and investing in companies and helping communities to foster entrepreneurship will be an asset to our work in Kansas City and across the nation," said Wendy Guillies, president and CEO of the Kauffman Foundation
Kansas City, Mo. (PRWEB) February 11, 2016
The Ewing Marion Kauffman Foundation today announced the appointment of Victor W. Hwang as vice president of entrepreneurship. Hwang will relocate from California to Kansas City to lead the Foundation's renowned entrepreneurship programming. He starts on Feb. 29.
Prior to joining the Kauffman Foundation, Hwang was co-founder and CEO of Liquidity, a Silicon Valley-based venture-backed nanotech firm that makes filters for safe drinking water. He also is the CEO and co-founder of T2 Venture Creation, a venture firm that builds startup companies and designs the ecosystems that foster entrepreneurial innovation. In addition, he was executive director of the Global Innovation Summit, a weeklong conference focused on building innovative ecosystems in countries around the world. He also is past president of Larta Institute, an organization that commercializes technology from key government agencies, such as the National Science Foundation and the National Institutes of Health.
Hwang is an alum of the Kauffman Fellows Program, a prestigious leadership development program for venture capitalists that was launched and operated by the Kauffman Foundation from the mid-1990s until the early 2000s, when the program was spun out as its own entity and eventually moved to Palo Alto, Calif.
"Victor's hands-on experience starting and investing in companies and helping communities to foster entrepreneurship will be an asset to our work in Kansas City and across the nation," said Wendy Guillies, president and CEO of the Kauffman Foundation. "He has experience at the grassroots, micro level but is also extremely knowledgeable about the macro environment in which entrepreneurs have to navigate. And with his background as a Kauffman Fellow, he fully understands and embraces Mr. Kauffman's principles and values."
Hwang will lead Kauffman's entrepreneurship programs that focus on educating and training entrepreneurs through its signature programs 1 Million Cups, Kauffman Founders School and Kauffman FastTrac; investing in proven entrepreneurship support models in Kansas City and nationwide; and working with metropolitan areas to create vibrant entrepreneurial communities that help companies start and grow.
"I'm honored by this opportunity to serve the Kauffman Foundation," said Hwang. "It's one of the most important institutions in the world. The Foundation touches millions of lives by empowering entrepreneurs to build innovations that improve our lives, cure illnesses, enhance sustainability and break down walls between people. Our goal is to build strong communities of diverse risk-takers pursuing shared dreams. And Kansas City, as the trailhead of the American frontier, is the perfect place to pioneer this meaningful work."
Hwang is co-author of the book The Rainforest: The Secret to Building the Next Silicon Valley, which explains how companies, communities and countries can foster systemic innovation at large scale. He also wrote the follow-up book, The Rainforest Blueprint: How to Design Your Own Silicon Valley, a practical guide on catalyzing innovation ecosystems. He is a contributing columnist to Forbes magazine, where he authors the blog "Riffs from the Rainforest." He also has written for The Wall Street Journal, TechCrunch and Entrepreneur. National Public Radio named his graduation address to Austin Community College one of the best commencement speeches ever. His opinions have been cited in The New York Times, The Wall Street Journal and the Los Angeles Times, among others.
Hwang serves on the board of Silicon Valley Forum, the largest and oldest not-for-profit organization in Silicon Valley. He was appointed to the California Blue Ribbon Task Force on Nanotechnology and was awarded a Marshall Memorial Fellowship, a program for emerging trans-Atlantic leaders.
Hwang grew up in the Midwest and the Central United States, including in Indiana, Iowa and Texas. He is a graduate of Harvard University and the Law School of the University of Chicago. He will be relocating from Los Altos, Calif., with his wife and two sons to the Kansas City area.
The Kauffman Foundation is a national and international thought leader on the growth of entrepreneurship and startups. The Kauffman Index of Entrepreneurship series, the most prominent of the Foundation's dozens of studies released each year, provides a comprehensive look at national startup and small business trends, including at the state and metropolitan levels. The Foundation is founder of Global Entrepreneurship Week, now in its eight year, which has stimulated efforts to enhance the global workforce and economy.
###
About the Kauffman Foundation
The Ewing Marion Kauffman Foundation is a private, nonpartisan foundation that aims to foster economic independence by advancing educational achievement and entrepreneurial success. Founded by late entrepreneur and philanthropist Ewing Marion Kauffman, the Foundation is based in Kansas City, Mo., and has approximately $2 billion in assets. For more information, visit http://www.kauffman.org, and follow the Foundation on http://www.twitter.com/kauffmanfdn and http://www.facebook.com/kauffmanfdn.