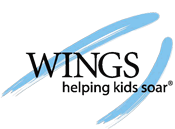 Charlotte, NC (PRWEB) February 11, 2016
Charlotte, NC (February 11, 2016) – WINGS for kids, a nonprofit afterschool program that helps elementary students build social and emotional skills, today celebrates its newest state Executive Director, Annie Burton. Burton assumed the role of Charlotte Executive Director for WINGS in November 2015, leading program expansion, partnership development, and strategic community engagement efforts.
"Annie Burton is the perfect person to lead WINGS for kids in Charlotte," said WINGS Board Chairman Dave Morley. "Her experience and longstanding relationships with the local and state education community uniquely position her to advance the organization regionally and provide links between the K-12 and higher education system."
Burton most recently served as the as Executive Director for School and Community Engagement at the University of North Carolina, Asheville, spearheading efforts to promote college and career readiness for middle and high school students. As Executive Director, Burton enhanced and forged new relationships with local and regional school districts on issues like teacher professional development and college readiness and access, including broadening the pipeline of academic supports in anticipation of an evolving demographic of students entering college in the new knowledge-based economy.
"Annie Burton's research background is a major asset to WINGS," said WINGS CEO Bridget Laird. "Her analysis on the perceptions of middle school students from urban and rural communities will no doubt elevate organizational strategy and help WINGS, Charlotte provide better programming that supports social-emotional learning."
Burton has presented at international forums such as the Engagement Scholarship Consortium's annual meetings. Burton is also the former Executive Director of the W.E.B. Du Bois Institute for African and African American Research at Harvard University, the nation's oldest research center of its kind, dedicated to the study, research and scholarship of the African Diaspora.
Annie has worked with school districts in Baltimore, Boston, Cleveland, Philadelphia, and throughout Western North Carolina and has over seventeen years of experience in corporate fundraising, grant writing, strategic planning, program development, research and evaluation. She holds a Bachelors of Science, Cum Laude, from Harvard University in Social Sciences.
About WINGS for kids
WINGS for kids is a nonprofit education program that teaches kids how to behave well, make good decisions and build healthy relationships. The program weaves a comprehensive social and emotional learning curriculum into a fresh and fun afterschool program—specifically targeted toward supporting low-income, minority students. Kids get the life lessons they need to succeed and be happy, and a safe place to call home after the school day ends.
###