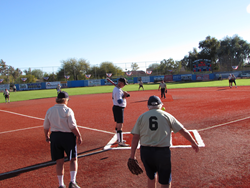 It's a testament to modern medicine that these guys can still play.
SURPRISE, ARIZ. (PRWEB) February 11, 2016
Life is known for throwing curves. It's thrown quite a few to the "cardiac kids," a group of men, 60 and older, who gather once a year to play softball to raise money through Sun Health Foundation for cardiac research.
Besides a love for the game, the more than 50 players who competed in this year's softball tournament share a history of heart problems, including heart attacks, heart surgeries, angioplasties and more.
"It's a testament to modern medicine that these guys can still play," said Ken Skinner, director of the tournament, officially known as the Bill Bromley Memorial Cardiac Kids Softball Tournament.
This year's tournament, the 10th anniversary, was played on a sunny Saturday, Feb. 6, at Liberty Buick Field in Sun City West. Players swung the bats freely and flashed a lot of leather but the mood was decidedly lighthearted, evidenced by a profusion of trash talking, mostly good-natured, and clowning around on the field.
The games and related events brought in $4,029, which will go to support Mohamed Gaballa, Ph.D., and his team at Banner Sun Health Research Institute (BSHRI) who are investigating the potential of gene and adult stem cell therapy to treat heart disease.
The funds were donated through the Sun Health Foundation, which provides philanthropic support to BSHRI. Tournament organizers adopted Dr. Gaballa's research project in 2011 and have raised more than $12,000 for the project since then.
The tournament's namesake, Bill Bromley, was a softball-batty retiree who dreamt up a charity tournament made up entirely of players who, like him, had suffered and recovered from a cardiac event.
His daughter, Sue Bromley remembers her father asking teammates and other players if they had a history of heart problems. "If they said 'yes,' he'd make a note of it, and before you know it, he had more than enough cardiac survivors to organize a tournament," Sue Bromley said. The first cardiac kids tournament was played in 2006.
Sadly, Bill Bromley suffered a heart attack after playing a softball game in 2008, and he died a short time later. The league renamed the tournament in his honor in 2009, the same year he was named to the Sun Cities Senior Softball League Hall of Fame.
"Dad loved softball," Sue Bromley, said. "Every time he had a cardiac event, he thought he was done (with softball) but then his cardiologist would say 'No. Get back out there. It's good for you,' so he did."
About Sun Health
A long-standing champion of healthy living and superior health care, Sun Health is a community-based nonprofit organization providing pathways to population health through philanthropy, senior living programs and communities, and community wellness programs and services. For nearly 50 years, Sun Health Foundation donors have supported superior health care in the West Valley. The foundation is the philanthropic partner to Banner Boswell and Banner Del E. Webb medical centers and the Banner Sun Health Research Institute, as well as community wellness programs provided by Sun Health.
Learn more at http://www.sunhealth.org and http://www.sunhealthfoundation.org.