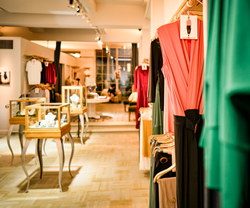 Customers call La Vie Est Belle "...empowering", "...a heart-warming experience", and "...relevant and authentic."
San Francisco, Ca (PRWEB) February 11, 2016
A unique concept store has arrived at 1833 Union Street in San Francisco. Introducing an experiential retail concept, La Vie Est Belle is creating a fully immersive brand experience. As stated by one guest, "I love that they are focused on knowing my story and what is important to me, not on selling me something." The Concept Store is taking a customer-centric model and elevating it to the next level as a lifestyle store that greets guests with a warm welcome that feels like a home away from home. It's the place to be, where people can hang out with friends, see and be seen, and influence the creative process by sharing their stories, needs, and desires. La Vie Est Belle is proving that this innovative business model builds brand loyalty. Customers call La Vie Est Belle "...empowering", "...a heart-warming experience", and "...relevant and authentic."
Co-branded by Les Lunes Fashion House (http://www.leslunes.com) and KTD Jewelers (http://www.ktdjewelers.com), both brands are known for engaging the customer in the design process and creating products with the customers needs and desires in mind. As stated by one customer, "I only want to shop in this kind of environment. A warm welcoming place, with my girlfriends and a glass of wine, being styled by star French stylists who listen to me and want to know who I actually am." The Concept Store's atmosphere swings from relaxed to energized, depending on the event du jour, everything from lounging on the sofa with a cup of tea, to wine and walking the catwalk. La vie Est Belle hosts a number of themed events designed to connect with the customer. "Being a star in a fashion show that is more about me than the clothes I am wearing empowered me and my friends to be who we are with confidence and pride."
"A product is powerful when it fulfills a purpose and connects people to each other and an ideal. When it reflects who we are, and has a value that we want to share with others, it impacts our lives in a positive way." - this is the community creation piece we do at La Vie Est Belle.
Les Lunes is a lifestyle Paris - San Francisco fashion house that marries comfort and sexiness for a timeless wardrobe. Design and fit is engineered in Paris and the garments are ethically made in their company managed LL.Atelier in Shanghai. Their versatile collections are made from premium soft fabrics sourced from bamboo and include Foundations, Lingerie, Activewear, Casualwear, RTW, and a Men's Underwear and T-shirt line.
KTD Jewelers is a family run fine jewelry house with a long tradition of excellent customer service. From heirloom pieces to everyday couture, KTD Jewelers specializes in quality craftsmanship. Offering unique collections, timeless design, and personalized custom pieces, with a selection of dazzling diamonds, precious gems, premium metals and handsome timepieces, proudly sourced from the finest conflict-free gemstones available.
La Vie Est Belle Grand Opening Party is on Feb 18, 2016.
Open Tuesday thru Saturday | 11:00 to 7:00 | 1833 Union Street, San Francisco, CA