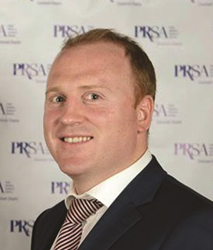 "We are honored to have Siôn, selected to this very elite group of individuals." – Tom Flottman, President Flottman Company
Cincinnati, Ohio (Crestview Hills, KY) (PRWEB) February 12, 2016
Cincinnati/Crestview Hills, February, 10, 2016, Siôn Williams, Director of Business Development for FUSIONWRX (an activation and engagement agency) has been selected as one of only 56 entrants into the C-Change Class 11, sponsored by the Cincinnati USA Regional Chamber. C-Change is the premier leadership program in Cincinnati and is entering its second decade of developing the region's young talent. Williams will join representatives from paramount companies in our community such as Procter & Gamble, Fifth Third Bank, Metro, WCPO and Great American Insurance.
"We are honored to have Siôn, as a representative of FUSIONWRX and Flottman, selected to this very elite group of individuals, I am certain that Siôn's global experiences will add tremendously to the opportunities presented within C-Change." – Tom Flottman, President of Flottman Company.
Siôn Williams is originally from Wales. He spent his early career working in sports marketing roles with a leading rugby club in London, England, followed by the British Colligate Sport Governing Body. Williams moved to Cincinnati after a 3 year stint in Los Angeles, where he co-founded a national rugby organization. Williams played professional rugby for two years in Europe and the United States. Currently, Williams is charged with growing a new marketing activation agency entitled FUSIONWRX. Williams' passions include sports, coaching, travel, his wife and two young children.
About C-Change
C-Change, a HYPE (Harnessing Young Professional Energy) year-long leadership development program targeted towards emerging leaders in the Cincinnati USA region, sponsored by the Cincinnati USA Regional Chamber. C-Change curriculum offers both business development and community connection that provides opportunities needed to advance both personally and professionally. To date C-Change has connected nearly 550 young leaders to each other and the Cincinnati regional community. Learn more at: http://www.hypecincinnati.com
About FUSIONWRX
FUSIONWRX is a marketing activation, client engagement and public relations agency that helps brands connect with their clients delivering the right message, via the right channels at the right time. We evoke passion and excitement that motivates your audience to act. FUSIONWRX is a division of Flottman Company. Learn more at: http://www.FUSIONWRX.com