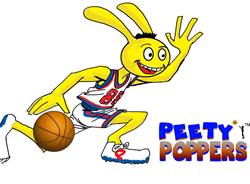 Peety Poppers TM. Nothing can keep us down!
Detroit, Mi (PRWEB) February 12, 2016
Basketball is a game for everyone, not just those who can hear! As a unique and integral part of the Peety PoppersTM series, sign language translation is featured in the top right of the screen. Every technique that is taught and every message of health and wellness in Peety PoppersTM lessons has a sign language translator to teach kids the game and how to be as active and healthy as possible.
Peety PoppersTM is loved internationally by young hearing and hearing-impaired children whose parents are nevertheless looking for a way to get kids excited about eating healthy and staying active. Peety PoppersTM is a two-part brand: a YouTube-based web-series and a fun children's website.
The web-series, which will be accompanied not only by on-screen sign-language interpretation but also by sister-channels in a variety of languages which aims to teach kids new skills and techniques in sports to help motivate and inspire them to get active and healthy. The premier series is focused on basketball, and consists of 26 episodes ranging from learning to dribble to taking a dunk shot. This gradual advancement will work to maintain and nourish children's learning and interest, but will also be accessible to kids of all skill-levels.
"Peety PoppersTM" is a revolutionary web-series, just for kids! Get ready to learn all the basic and advanced basketball skills as Peety and friends show the way. The YouTube show features the lovable jackrabbit Peety Poppers and friends Penny, Pauly, Perry, and Peggy going through easy, fun step-by-step instructions on basketball techniques for all skill-levels, from dribbling for beginners, to the hook-shot for real pros. The premiere episodes teach kids the fascinating story of how basketball first began, and introduces the foundation of basketball: dribbling. It's a great chance for kids to get to know Peety and get excited for the episodes to come.
While the website will serve as a second home to the episodes, it brings in a whole new realm for kids' exploration: nutrition. The nutrition tab found on the main menu of the website will host a page where kids can learn what it means to eat healthy and also learn about the different food groups, as well as pages for recipes and downloadable activity sheets (coloring sheets, mazes, etc.). It will also be the home for the Peety PoppersTM series of fun health facts, which will initially be published daily on Twitter. With a website loaded with all sorts of nutrition and fitness information for kids to explore, Peety PoppersTM will soon be a household name for kids to look forward to after homework. Get your kids excited about learning sports in ways never thought possible.
Brand-new episodes will be launched every week on Mondays, Wednesdays, and Fridays, giving kids plenty of new skills to learn and practice while perfecting previous techniques. It's a fun, easy, way to get kids up and moving. There will also be plenty of Peety PoppersTM attire to keep kids fashionable in school and on the playground. With basketball clinics all over southeast Michigan (and soon, all over the nation), kids can supplement the fun webisodes with in-person practice, and get to meet the real Peety PoppersTM.
Peety PoppersTM is a division of Poppersworld, Inc,. the sporting goods company that created the Poppers™ basketball net. Poppers™ is a revolutionary, patented basketball net that enhances enjoyment and skill development of the game because of its unique and unmistakable popping sound every time the ball goes through the net, coming in contact with our unique leather strips attached at the bottom of the net. Poppers™ enhances the sight, sound and mental satisfaction of the game.
Links
Official Peety PoppersTM Website: http://www.peetypoppers.com
https://twitter.com/PeetyPoppers
https://www.youtube.com/watch?v=jowjChT-PSc
https://www.instagram.com/peetypoppers/
About Peety PoppersTM:
Peety PoppersTM is a division of Poppersworld, Inc. Peety PoppersTM was created from the desire to see kids active and healthy. We are committed to raising a generation of healthy and active youth in a fun and exciting way. We believe it is not only possible to get our kids excited about getting fit, but also to find a new hobby they can love and enjoy. At http://www.peetypoppers.com, we believe learning the merits of good nutrition, exercise, and a healthy mind starts at a young age. We want to be there every step of the way.
For Media Contact:
Poppersworld, Inc.
P.O. Box 5413
Detroit, MI 48205
866 418-PPTM
General Show Inquiries: showtime(at)peetypoppers(dot)com
Social Media Inquiries: socialmedia(at)peetypoppers(dot)com
Advertising & Promotional Inquiries: advertising(at)peetypoppers(dot)com