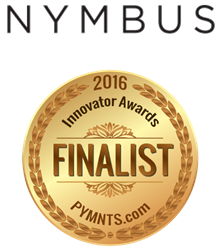 "We, together with our partners, aim to empower smaller banks and credit unions to compete with the banking goliaths and non-bank startups by offering a solution that will help them keep the pace with today's tech-savvy consumers." - Alex Lopatine, CEO
Miami, FLORIDA (PRWEB) February 11, 2016
NYMBUS, the world's first complete, full-stack, API driven core banking platform, has been named one of five finalists for a 2016 PYMNTS Innovator Award in the 'Best Newcomer' category. The Innovator Awards are among the most prestigious in the payments industry.
Out of a record number of more than 600 submissions, NYMBUS, which launched in October of 2015, was selected as a finalist in part based on its ability to showcase how its core banking technology differs in the marketplace, how the core banking platform solves a burdening industry problem and how it plans to continue along the path of innovation in the next five years.
"As an emerging company dedicated to revolutionizing the banking industry, we are honored to be recognized as a finalist for the 'Best Newcomer' award," said NYMBUS' CEO Alex Lopatine. "Our team's mission is to improve the financial landscape by offering a solution to the challenges presented by legacy core banking systems, which prove to be both a time and cost burden for small to medium-sized FIs. We are eager to see our efforts positively impact the banking industry on a larger scale throughout this next year and beyond, and we are thrilled to be recognized for our innovations thus far."
A panel of judges comprised of industry professionals, who see and invest in innovation every day, has chosen the five finalists to compete for the gold, silver and bronze medal in the 'Best Newcomer' category – one of 15 best-in-class categories recognized this year. These medals will be presented at the PYMNTS Awards dinner on March 17, at the conclusion of the Innovation Project 2016.
NYMBUS' software features a single sign-on to a central hub, and since inception, the platform has continuously aimed to eliminate the inefficiencies and security liabilities inherent in legacy core banking platforms. Designed by world-class UX experts, NYMBUS is the first cloud-based, fully integrated core banking platform. The scalable, user-friendly software gives end users a 21st-century experience and can increase financial institutions' productivity by 50 percent.
"We, together with our partners, aim to empower smaller banks and credit unions to compete with the banking goliaths and non-bank startups by offering a solution that will help them keep the pace with today's tech-savvy consumers," Lopatine said. "We're achieving this by taking a modern approach to core infrastructures and continuously evolving our technology to best fit our customers' needs."
As part of the winner-selection process, the public is encouraged to vote for their favorite innovator. To cast a vote for NYMBUS as this year's 'Best Newcomer,' visit innovationproject.com/2016-innovator-awards. Voting closes at 5 p.m. EST on Feb. 19.
For more information on how NYMBUS, together with its partners, is revolutionizing the banking industry, nymbus.com.
###
About NYMBUS
NYMBUS is poised to revolutionize the banking industry through a modern and holistic approach to core infrastructures. Developed to evolve seamlessly with both banks and their increasingly tech-savvy customers, NYMBUS' software fuses core banking functionality, an impressive suite of applications and a cloud-based infrastructure into a singular banking solution designed for the 21st century. NYMBUS' API driven platform allows financial institutions to operate more efficiently, build customer loyalty and drive revenue growth.
Media Contact
Michelle Yandre
Leverage PR
michelle(at)leverage-pr(dot)com
512-502-5833