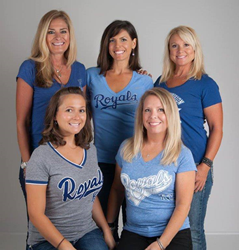 "We are honored to be chosen as one of the Class of 2016's 25 Under 25. Staffing Kansas City congratulates the other 24 small businesses receiving the honor as well. We would like to thank our loyal clients for their business and support and our employees
Overland Park, Kansas (PRWEB) February 12, 2016
Staffing Kansas City, an employment provider of administrative, accounting, sales, marketing, and customer service professionals, is pleased to announce its nomination as one of Thinking Bigger's 2016 25 Under 25 finalists. Nominated by peers in the business industry, the 25 Under 25 awards recognize outstanding Kansas City businesses employing 25 or fewer employees.
Judges from the business community evaluate each 25 Under 25 honoree on its ability to overcome challenges and adversity, financial stability, company vision, community involvement and service, and overall defining characteristics and qualities. To be considered for the 25 Under 25 honor, a Kansas City business must employ no more than 25 full-time employees or full-time equivalents, operate as a for-profit business three years or more, and be located in the greater Kansas City area. The 25 Under 25 awards gala and dinner held on Saturday, Feb. 27, will celebrate each of the nominees.
"We are honored to be chosen as one of the Class of 2016's 25 Under 25. Staffing Kansas City congratulates the other 24 small businesses receiving the honor as well. We would like to thank our loyal clients for their business and support and our employees for all their hard work," said Roses Ammon, Vice President of Staffing Kansas City.
Small Businesses Drive the Nation
Thinking Bigger's annual 25 Under 25 award helps place an important spotlight on the critical role of small businesses in the local and national economy and its related social, economic and community impacts. Businesses that employ 25 or fewer individuals drive the overall economy. This demographic makes up the largest majority of businesses locally and nationally. In the Kansas City area, the Under-25 demographic includes 83 percent of local businesses. On a national level, the demographic makes up 86 percent of businesses.
About Staffing Kansas City
Staffing Kansas City is a full-service employment placement firm that specializes in recruiting and screening office support, sales, accounting and professional candidates for direct hire, contract-to-hire and temporary positions in the Kansas City area.