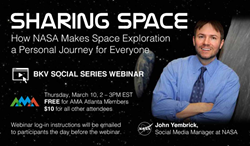 The webinar presents a fascinating look into NASA's digital universe.
Atlanta, GA (PRWEB) February 16, 2016
BKV, a full-service direct and digital marketing agency, is proud to suit up and sponsor NASA's AMA Signature Social webinar, "Sharing Space: How NASA Makes Space Exploration a Personal Journey for Everyone," on Thursday, March 10 from 2-3 p.m.
With technology enabling anyone to connect with NASA and its astronauts in space, the webinar presents a fascinating look into NASA's digital universe. NASA coordinates over 500 accounts to reach 79 million people across 13 social media platforms—and NASA Social Media Manager John Yembrick will break down the organization's best practices and tactics that help them build community, rally public support, impact public perception and influence decision making.
The webinar will also explore:

The art of packaging content to inspire and engage an audience
How to take the offline experience online with in-person experiences
How to engage influencers and encourage user-generated content to help tell your story
Best practices for organizing and managing multiple social media account users
How to transform into a digital communications organization and foster employee buy-in
Successful NASA campaigns that have skyrocketed the agency's social media presence
"NASA is such a well-loved organization and you can see why—they've worked to deliver wonder to the world for decades, which is why we're so excited to sponsor this event," said Jana Ferguson, executive vice president and director of client services at BKV. "NASA has made the universe and its mysteries accessible to anyone. We can't wait to explore the best practices in digital and social that make this possible, and to help make it easier for other organizations to launch their social reach into the stratosphere."
The webinar is free for AMA Atlanta members and $10 for non-members. Register here.
About BKV
BKV is an Atlanta based full-service direct and digital advertising agency that specializes in using data-driven strategies to drive business results. BKV's client portfolio includes local, national and global brands. The agency provides digital and traditional media services, including creative design, web development, CRM, paid media (online and offline), SEO, Social Media, Digital PR, Direct Mail, DRTV, Database Management, Analytics and Data Modeling. For more information, visit http://www.bkv.com. Follow BKV on Twitter @BKVadvertising.