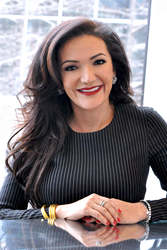 Dallas, Texas (PRWEB) February 11, 2016
Nina Vaca, Chairman and CEO of Pinnacle Group, has been unanimously selected as the Dallas Business Journal's (DBJ) Lifetime Achievement Award winner. The DBJ honors a select group of minority business leaders with various accolades each year; however, its highest honor, the Lifetime Achievement Award, is only issued when "such an individual emerges."
Now approaching its 20th anniversary, Vaca has led Pinnacle Group through a post-recession renaissance -- quadrupling its revenue since 2010, making it one of the largest and fastest growing firms in its industry, and most recently named the fastest growing women-owned enterprise in America by the Women Presidents' Organization in 2015. 
  
In addition to founding and leading Pinnacle Group, Vaca has a long track record of civic leadership, beginning locally here in Dallas, and expanding nationally and globally.  Nina is Chairman Emeritus of the U.S. Hispanic Chamber of Commerce (USHCC) and Chairman of the USHCC Foundation and was appointed as an inaugural member of the Presidential Ambassadors for Global Entrepreneurship.  In that role she has traveled internationally with U.S. Secretary of Commerce Penny Pritzker to help entrepreneurs in developing countries advance their businesses and communities.
 
Vaca also serves as a director on the boards of Comerica Bank, Kohl's Corporation, and Cinemark, and has been a strong advocate for more women in corporate leadership and serving on corporate boards through the At the Table initiative she founded with the USHCC Foundation.
 
"I am truly humbled to receive this award from a publication that has chronicled our story since its inception," said Vaca. "The last 19 years have just been a warmup for Pinnacle, because we're just coming into our own. This recognition reminds me of the road we've traveled, but more importantly, it excites me for the promising road ahead. We all have so much yet to achieve in our lifetimes, and I know that the best days are yet to come for our clients and the people behind Pinnacle."
 
With past recognitions such as the Women in Business honoree (2013), Tech Titans (2010) and 40 Under 40 (2010), DBJ has chronicled Vaca's achievements for the past 10 years, ranking her among Dallas's highest achieving citizens.
 
"Vaca's community involvement, reputation and accomplishments led our panel of judges to unanimously choose her as the Lifetime Achievement Award winner for the 2016 Minority Business Leader Awards," said Anna Butler of the Dallas Business Journal. "There has not been an honoree for a Lifetime Achievement Award for several years."
 
While her national footprint and global reach has grown in recent years, Vaca remains heavily involved in her hometown of Dallas, Texas. In 2010, she brought the largest gathering of Hispanic business leaders in America, the USHCC's National Convention, infusing millions of dollars into the city's economy. Vaca continues to serve her community by supporting several community organization, while also devoting time and resources to pro-growth initiatives such as the Dallas Blueprint for Leadership and the Mayor's Intern Fellows programs.
 
"I've enjoyed working with Nina Vaca, and witnessing her grow into a formidable force for Dallas; attracting big business and national conferences, giving back to our communities through her activism and investments, and serving as an emissary of our city to future investors and residents throughout the nation and across the globe," said Dallas Mayor Mike Rawlings. "Nina is an exemplary Dallasite, I am pleased that she has received this well-deserved accolade and look forward to working with her for many years to come."
  
Read the full story at: http://www.bizjournals.com/dallas/blog/morning_call/2016/01/nina-vaca-selected-as-lifetime-achievement-award.html
 
 About Pinnacle Group
Pinnacle Group is a leading provider of information technology services and workforce solutions and was named fastest growing women-owned business in the U.S. by the Women Presidents' Organization in 2015. Pinnacle Group includes Pinnacle Talent Solutions, its information technology staffing and professional services division; Pinnacle MSP, its managed services division; Pinnacle Payrolling, providing payrolling and independent contractor compliance services; Pinnacle Canada, providing staffing, MSP and payrolling services in Canada; and Provade, Inc., a global provider of enterprise-class vendor management software (VMS).
Pinnacle Group has become one of the largest providers in its industry, with thousands of IT professionals providing services across the U.S. and Canada. Provade's VMS technology operates in over 60 countries and manages billions of dollars in annual spend. For more information visit: http://www.pinnacle1.com and http://www.provade.com.
Media Contact
Kyra Hartung
Pinnacle Group
Dallas Office: +1-214-550-5091
kyra.hartung(at)pinnacle1(dot)com