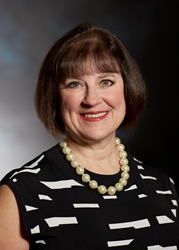 Law practice is most rewarding when we can craft creative solutions that are based on a deep understanding of the client, its people, and its needs, priorities and strengths.
Portland, Oregon (PRWEB) February 10, 2016
Mary Jo Miller joined Ball Janik LLP as a partner in the finance, corporate, and real estate practices. Her practice focuses on finance, merger and acquisition, securities, and general corporate matters, with a strong focus on renewable energy-related projects and companies. Ms. Miller's clients include public and private companies, financial institutions, underwriters, private equity companies and investment funds, governmental and quasi-governmental entities, and developers. She has handled a broad range of transactions, including syndicated and bilateral loan facilities, asset and stock sales, project finance, public bond financing, and public offerings and private placements of debt and equity securities. Ms. Miller has represented both lenders and borrowers in financing transactions, and both buyers and sellers in merger and acquisition transactions.
Ms. Miller's legal experience prior to joining Ball Janik LLP includes three years as a member of the bank finance group of Baker & McKenzie in Chicago, four years as a member of the capital markets group of Shearman & Sterling in London and New York, and 10 years as a member of the corporate group of Stoel Rives in Portland. Ms. Miller also has 10 years of commercial lending experience as an officer of PNC Financial Corp and served as interim General Counsel for Erickson Air-Crane for six months in 2010.
Mary Jo Miller is an author of the State Q&A Topic on Oregon Corporation Law for Practical Law Company. She is a member of the Board of Directors of the Multnomah Bar Foundation. Miller's community activities include the Race Committee of Komen Oregon, the West Point Parents Club of Oregon and Southwest Washington, and the Jesuit High School community.
Ms. Miller is admitted to practice in Illinois and Oregon. She earned her J.D., cum laude, at the University of Notre Dame Law School in 1995, her M.I.B. at the University of South Carolina in 1982, and her B.S., magna cum laude, at John Carroll University in 1980. She also graduated, with honors, from the ABA Stonier Graduate School of Banking in 1992.
About Ball Janik LLP
Ball Janik LLP is a Pacific Northwest law firm headquartered in Portland, Oregon, with offices in Orlando, Florida and Salt Lake City, Utah. For over thirty years, Ball Janik LLP has been providing outstanding legal services in the areas of bankruptcy and creditor rights, commercial litigation, construction and design, construction litigation, employment, real estate and land use, insurance recovery for policyholders, and securities litigation.
Ball Janik LLP represents large and small businesses; state, municipal and local governments; associations; schools and universities; and individuals. Ball Janik LLP provides clients an aggressive, skilled, team approach to solve problems and achieve results. Ball Janik LLP has been recognized by Chambers USA, U.S. News – Best Lawyers®, The Best Lawyers in America®, and Corporate International. Ball Janik LLP's success and integrity have repeatedly made it one of Oregon's "Most Admired Professional Firms," according to the Portland Business Journal's survey results of CEOs throughout the region.