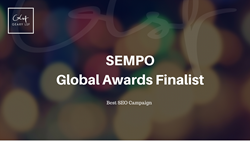 Our team identified an opportunity... with an out-of-the-box strategy and it paid off.
San Francisco, CA (PRWEB) February 11, 2016
Digital Marketing agency, Geary LSF, is pleased to announce today that they have been selected as one of three finalists in the category of Best SEO Campaign by the distinguished judges of the SEMPO Global Awards. The agency, which specializes in creating custom omni-channel marketing strategies for their clients, will be recognized in front of their esteemed colleagues in early March.
The client campaign in the running for the award was executed on behalf of longtime agency client, Monkey Sports, and included extensive search and content marketing work. The campaign, which also was recognized with the honor of 'Best SEO Campaign' at the 2015 U.S. Search Awards in October, is unique not just because of the recognition it's received, but because of the results the agency was able to drive for a client that had been a partner in SEO for over six years. Oftentimes efforts can grow stale and results can plateau, but Geary LSF was able to iterate on their strategy and continue to expand the reach of the client, ultimately growing their results and revenue.
"To be recognized for our work in Search by such a reputable organization as SEMPO, is truly an honor," said Geary LSF Marketing Director, Katie Colleton. "With every campaign we build and launch, we strive to break the mold and push the limits. With this campaign in particular, our team identified an opportunity to expand the reach of the client with an out-of-the-box strategy… and it paid off."
The final selection process to choose the award recipient falls on the SEMPO members who have the difficult task of selecting one recipient in each category who they believe is most deserving of the honor. The final award recipients will be announced at the SEMPO Member Forum taking place March 10-12th in San Diego.
For the complete list of finalists, visit the SEMPO website here. For more information on Geary LSF, or a copy of the winning submission, please contact a representative of the agency at marketing@gearylsf.com.
About SEMPO
SEMPO is a global non-profit organization serving the search engine marketing industry and marketing professionals engaged in it. Their purpose is to provide a foundation for industry growth through building stronger relationships, fostering awareness, providing education, promoting the industry, generating research, and creating a better understanding of search and its role in marketing.
About Geary LSF
Geary LSF is a full service digital marketing agency headquartered in San Francisco, with additional offices in San Diego, Chicago, Boston, Philadelphia and St. Louis. Specializing in an omni-channel marketing approach, the team turns digital ambitions into business results for more than 450 brands worldwide including: Bumble Bee Foods, Target, Aramark and several others. For more information, please visit http://www.gearylsf.com.