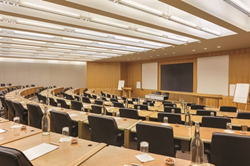 Palisades, New York (PRWEB) February 16, 2016
HNA Group has completed the acquisition of International Business Machines' (IBM) 106-acre, 450,000-square-foot Palisades Conference Center, located 20 miles north of Manhattan, as a resource and training center for HNA Group's global executive team. The conference center property is located at 334 Route 9W Palisades, New York 10964. Terms of the transaction were not disclosed.
The conference center will now be known as the HNA Palisades Premier Conference Center. HNA has retained Crescent Hotels & Resorts to manage the property on its behalf.
HNA Group is a global multinational with interests in airport services, transportation, real estate, financial services, leasing, tourism, hotels, and logistics. HNA has a 180,000-strong global workforce.
HNA Group was attracted to Rockland County, and Palisades in particular, because of the community's proximity to New York City and the well-educated workforce in Palisades and the surrounding communities. HNA Group said that as its business expands in North America, the Group will need talented, dedicated employees to help fuel its growth.
International Business Machines (IBM) plans to maintain a presence at the property. The Palisades Conference Center provides leading financial institutions, universities and services organizations with training and education facilities, as well as hosting customer events.
HNA Group intends to maintain the current character of the property and is committed to operating the conference center in a manner that is sensitive to the needs of the Palisades and Rockland communities. In addition to training events for its global workforce, HNA plans to host cultural and social events for its new neighbors.
For more information or to book a room visit http://www.HNAPalisades.com or call (845) 732-6000.
About HNA Group
HNA Group Co., Ltd. is a global conglomerate engaged in airport services, transportation, real estate, financial services, leasing, tourism, hotels, and logistics. It is the parent company of Hainan Airlines, which was founded in 1993. It is based in China in Haikou, Hainan Province and in Beijing. HNA Group is known for its commitment to corporate social responsibility.
About Crescent Hotels & Resorts
Crescent Hotels & Resorts is a nationally recognized, top-3 operator of premiere hotels, resorts & conference centers. Crescent currently operates over 100 hotels and resorts in the US and Canada. Crescent is one of the few elite management companies approved to operate upper-upscale and luxury hotels under the brand families of Marriott, Hilton, Starwood, Hyatt and IHG. Crescent also operates a collection of legendary independent hotels, resorts & conference centers. For more information, please visit http://www.chrco.com
rw Stayinwashingtondc.com #stayinwashdc