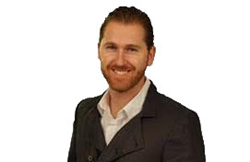 Geary LSF's approach puts an omni-channel lens on all campaigns they manage.
San Diego, CA (PRWEB) February 16, 2016
Geary LSF, the digital agency that creates custom omni-channel marketing strategies for its clients, has announced today the addition of Alvaro Martinez as Director of Omni-Channel Solutions for the agency.
Alvaro has a proven record of creating, managing and implementing innovative and successful marketing campaigns for clients such as Nestle, Reliant Energy, LifeProof/OtterBox and more. As the new Director of Omni-Channel Solutions, this experience will accentuate the level of service Geary LSF provides its portfolio of top national brands.
In his role, Alvaro will collaborate cross-departmentally within the agency to strategically optimize campaigns in order to achieve the best results for the agency's clients. Additionally, he will work in conjunction with Director of Integrated Services, Jennifer Fleck, on analytical insights and user experience design, as well as with Geary LSF Executive Vice President of Product, Ramsay Crooks, on product development and evolution.
"We all know that the consumer path to purchase has shifted gears from a linear progression to a sometimes convoluted system with multiple touchpoints and channels in which brands can engage with prospective customers," says Alvaro. "Geary LSF's approach to digital marketing not only recognizes this transition, but puts an omni-channel lens on all campaigns they manage. Whether they are an agency of record and oversee all aspects of a client's digital marketing or if they own just one tactic in a larger strategy, Geary LSF uses analytical insights from all channels to continually optimize and improve performance. This forward thinking and big-picture mindset that is preached throughout the organization, is what makes me most excited to join the Geary LSF team and contribute to the growth and profitability of our clients' businesses."
Prior to joining Geary LSF, Martinez was Director of Digital Marketing at Digital Operative, a San Diego-based marketing agency, where he led the marketing team and spearheaded the growth and development of content marketing and social commerce services.
Originally from Spain, Mr. Martinez relocated to San Diego 13 years ago to pursue his passion for soccer while completing his studies in Information Systems & Technologies and Marketing. He has since also earned a Masters Degree in Marketing Management from IE Business School of Spain.
When not conjuring up his next entrepreneurial idea or keeping up with industry news, Alvaro enjoys spending time with his wife and two daughters, playing and watching soccer, and exploring new cultures and forms of entertainment.
For more information about Geary LSF's omni-channel marketing approach or to inquire about joining the Geary LSF agency team, please visit GearyLSF.com or contact a representative of the agency at marketing(at)gearylsf(dot)com.
About Geary LSF
Geary LSF is a full service digital marketing agency headquartered in San Francisco, with additional offices in San Diego, Chicago, Boston, and Philadelphia. Specializing in creating custom omni-channel marketing strategies, the team turns digital ambitions into business results for more than 450 brands worldwide including: Bumble Bee Foods, Target, Ashley Furniture, Aramark and several others. For more information, please visit http://www.gearylsf.com.