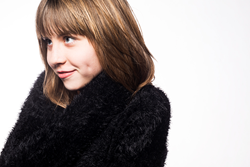 "One day I decided to add a sound file, just for fun, and it made the emoji sharing much more fun. It also made everyone ROFL." - Mercer Henderson
SAN FRANCISCO, CA (PRWEB) February 11, 2016
This Valentine's Day, 13 year old Mercer Henderson wants everyone to send "real" smooches via iMessage. That's right, not just the emoji of the kissy face - but also the sound effect to go with it.
"I speak emoji all the time with my friends," said Mercer Henderson. "We make sentences out of all the different faces and objects! One day I decided to add a sound file, just for fun, and it made the emoji sharing much more fun. It also made everyone ROFL."
Three years ago, Mercer got her first iPhone and like most early teens, loved using the emoji keyboard to have full fledged conversations with her friends and family. However, after using the same emojis over and over they lost some of their appeal.
She told her mom she wanted to make an app where you could match professionally recorded [and custom] sounds with an emoji "emoji sound combo." Lucky to have a mom in tech, Mercer had resources at her fingertips. Mom enlisted the help of Lucas Arts sound engineer, Bob Edwards and production began. Within four months, they created custom sounds for 50+ emojis. First was the kissy face emoji - a sweet smooch sound. After that, she moved on to the football with a "touchdown!" cheer, followed by the surfboard and pizza slice. Audiots was born.
"When Mercer came up with the idea for Audiots, we immediately started reaching out to friends and family to make it happen," said Lisa Henderson, Mercer's mom. "She's only 13 and going through the experience of learning how to bring an idea to life alongside a professional sound engineer. She's also creating a company name and logo, deciding which emojis to do first with the input of her friends, of course." Mercer's customized "record your own feature" will launch on Friday, February 12th.
"She has a vision for the next few versions and dreams of making a sound emoji for some of her favorite musical artists, products and TV personalities including Ellen," said Mercer's mom.
Right now, Audiots is free. In the future, the company aims to have three separate revenue streams:

Branded emojis - this feature will allow companies to push a branded emoji with professionally recorded sound at a flat fee.
Super sized audio packages - these will include famous voices, quotes, poems, etc. that can be layered onto any emoji.
Specialized emoji packages - these packages will focus on different verticals including sports, music, animals, places, objects and fashion.
Download - https://itunes.apple.com/us/app/audiots/id1078710105?mt=8
Images - https://drive.google.com/folderview?id=0Bx-OQ8hdwjDIQklGQWt1UEJHSGs&usp=sharing
About Audiots
Audiots is an iOS app that mashes together sound and emojis. How it works: Download the app and load the Audiots sound Emoji Keyboard. Pick your emoji with professionally recorded sound bites. The person on the receiving end does not have to have the same keyboard to receive the sound emoji. Audiots was created by full time 7th grader Mercer Henderson, who performs with musical theater companies in San Francisco and New York, speaks Mandarin, plays sports and is a top student. The name Audiots comes from combining audio and it [emojis].