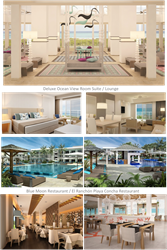 "Committed with its clients comfort, the Ocean Casa del Mar offers Ocean's Privilege Service for those in search of exclusivity, the best rooms, great views and special services" says Oscar Serrano, VP Sales & Marketing of Ocean by H10
OCEAN CASA DEL MAR, Cayo Santa María, Villa Clara Province Cuba (PRWEB) February 24, 2016
Ocean by H10 Hotels has opened the five-star Ocean Casa del Mar, a newly-built resort with an ideal beachfront location. It stands in Cayo Santa María, the largest of the Villa Clara Keys located in the north of Cuba. The 800-room resort has direct access to a beach that runs for almost 1 kilometre along the coast. "This five-star resort offers a wide range of services, including its pools, extensive selection of cuisine, a 24-hour All-Inclusive service and a full program of entertainment for both adults and children, with the sole objective to guarantee customers' satisfaction," pointed Oscar Serrano, Vice President Sales & Marketing for Ocean by H10 Hotels.
Cayo Santa María is an increasingly popular tourist destination in the UNESCO Biosphere Reserve of Buena Vista Bay, a natural paradise with white sandy beaches and crystal-clear waters. This island also hosts diverse endemic plants and animal species. Decorated with an elegant, modern design that reflects the natural environment, this complex is arranged around two swimming pools and offers beautiful views of the sea and the surrounding landscape.
Rooms:
The Ocean Casa del Mar has 800 bright, spacious rooms. All of them have a balcony or terrace and are equipped with all the services needed for the most pleasant stay: LCD television with international channels, coffee machine, minibar, safe box, air conditioning, ceiling fan and fully-equipped bathroom. The newly-built five-star Resort offers Deluxe Rooms, Privilege Rooms, Suites and the Privilege Suites that include lounge, toilet, fully-equipped bathroom with Hydro-massage Bath and shower, each one with a perfect view.
Dining options:
The Ocean Casa del Mar has several restaurants and bars. Its eight restaurants, six of which are à la carte, serve different types of cuisine: international, Italian, Asian, Mediterranean, Cuban and fish and seafood. They include El Ranchón Playa Concha Restaurant, near the beach, El Cocotal Restaurant, with themed evenings, and the Blue Moon Restaurant for over-18s, the ideal place for a romantic meal.
The resort has ten bars spread around the complex. One of them, Mike's Coffee, serves speciality teas, coffees and homemade cakes, plus there are two bars in the pool and one on the beach.
Special services:
The Privilege Rooms include a free hour of Wi-Fi per room during the stay, a table reserved in restaurants and exclusive amenities. Guests can also enjoy the Privilege Lounge, which serves premium brand wines and spirits and à la carte breakfasts and evening meals.
Entertainment:
The resort is designed to ensure a great and sound rest or a great adventure on your spare time. Children amusement is also a priority; this is why there is a children's pool and paddling pool, a games area and the Daisy Club entertainment program. For adults, the Ocean Casa del Mar offers a full program of sports and other activities organized by its team of entertainers, the Blue Team. The Ocean Casa del Mar also includes services like theatre, fitness centre, Wi-Fi throughout the hotel, an internet corner and free outdoor parking.The opening of the Ocean Casa del Mar gives the chain a total of four resorts and 2000+ rooms in Cuba. Ocean by H10 Hotels already has two hotels in Varadero, the Ocean Vista Azul (opened in December 2015) and the Ocean Varadero El Patriarca, and another one in the capital, the H10 Habana Panorama. All four resorts belong to the Gaviota Group and are managed by H10 Hotels.
About Ocean by H10
Ocean by H10 Hotels was founded in 2007 as a joint venture between Spain-based H10 Hotels and Vacances Air Transat, a leading Canadian tour operator and charter carrier. The company currently operates resorts in Mexico, the Dominican Republic and Cuba. For more information on Ocean by H10 Hotels or to make a reservation, go to http://www.oceanhotels.net or call 1-888-531-8927 from within the U.S. and Canada. To download high-resolution images please CLICK HERE.
For further information contact:
Press contact: Elsie Mendez pr(at)marketingzentral.com
Ocean by H10: David Muñoz marketing(at)oceanhotels.net