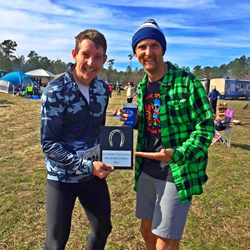 If you want the magic of winning you need to cultivate a mindset that forces you to keep going at maximum effort even when it hurts.
Wilmington, DC (PRWEB) February 12, 2016
Dan Waldschmidt, a highly sought after keynote speaker and extreme athlete, was the standout winner of the Southern Tour Ultra 50K. The race, sponsored by Wilmington Health Foundation and Without Limits Coaching, was the first-ever ultra-marathon race to be held in the Wilmington, NC area.
The competitive field of athletes pushed an impressive pace from the onset of the race, but Dan Waldschmidt steadily increased the distance between him and second place over the 50 kilometer distance, setting both a blistering inaugural course record and a new personal record -- beating the rest of the field by over 17 minutes and securing his position as an elite long distance runner.
"If I go, I have to win," Dan determined. After the race, he would say, "it was the most fun I have ever had running a race."
Dan is an experienced ultramarathon runner with over 20 years of experience on roads and trails. In June of last year, he also set the course record for the Knock On Wood 100, proving that his business success can translate to running.
"I use the same winning mindsets and methods I share with business leaders all over the world in my consulting and keynote speaking to achieve success in long distance running," Dan noted. "If you don't think massive success is possible, you'll look for answers in all the wrong places. It's my job to open your mind to new possibilities -- and then help you implement strategies that turn those possibilities into unprecedented performance."
Dan Waldschmidt is training to attempt his second long distance world record this summer -- running 500 kilometers non-stop, faster than anyone has ever done before.
ABOUT DAN WALDSCHMIDT
Dan Waldschmidt has spent his life attempting (and often achieving) the outrageous in business, wealth, and competitive ultra distance running. He refuses to accept business as usual – making him an unconventional, yet highly effective, consultant and keynote speaker to some of the world's largest companies.
ABOUT WALDSCHMIDT PARTNERS INTERNATIONAL
Waldschmidt Partners International is the firm business leaders in 14 countries across 30 verticals look to for advice and inspiration. Led by Dan Waldschmidt, with offices in Washington, DC, Istanbul, Turkey and Tokyo, Japan, our clients receive radical strategies for industry dominance.