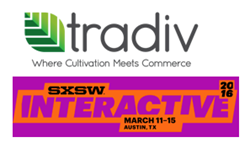 "We're thrilled to showcase Tradiv's marijuana ecommerce marketplace to the technology and business professionals at SXSW Interactive" -Lisa Buffo
Boulder, Colorado (PRWEB) February 11, 2016
Tradiv, the cannabis industry's largest online wholesale marketplace for marijuana businesses, has been selected to showcase its B2B cannabis marketplace at SXSW Interactive's Startup Spotlight on March 14 at the Hilton Downtown Austin. Tradiv's Founder and Executive Chairman, Aeron Sullivan, and Chief Marketing Officer, Lisa Buffo, will be in attendance.
"We're thrilled to showcase Tradiv's marijuana ecommerce marketplace to the technology and business professionals at SXSW Interactive," Buffo said.
According to new data from the Colorado Department of Revenue, licensed and regulated marijuana stores in Colorado sold $996 million worth of recreational and medical cannabis in 2015. The ArcView Group, the legal cannabis industry's hub for investment and data, estimates that marijuana sales will reach $21.8 billion by 2020.
Tradiv launched its commercial marketplace in October 2015 for Colorado's licensed cannabis businesses. Learn more at http://www.tradiv.com
About SXSW Interactive
The 23rd annual SXSW Interactive Festival returns to Austin from Friday, March 11 through Tuesday, March 15. An incubator of cutting-edge technologies and digital creativity, the 2016 event features five days of compelling presentations and panels from the brightest minds in emerging technology, scores of exciting networking events hosted by industry leaders and an unbeatable lineup of special programs showcasing the best new websites, video games and startup ideas the community has to offer. From hands-on training to big-picture analysis of the future, SXSW Interactive has become the place to discover the technology of tomorrow today.
About Tradiv
Tradiv is the cannabis industry's largest online wholesale marketplace. Tradiv's marketplace services dispensaries, manufacturers of marijuana infused products and cultivators looking to buy and sell wholesale cannabis products online in the state of Colorado. Interested licensed Marijuana Enforcement Division cannabis businesses may sign up at http://www.tradiv.com.