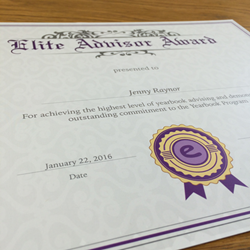 ...many yearbook advisors donate their personal time to the project.
Princeton, NJ (PRWEB) February 12, 2016
This month, yearbook advisors who work with Entourage Yearbooks may be given the opportunity to participate in the new Customer Appreciation Rewards Program. According to Larry Johnson, Director of Accounts at Entourage Yearbooks, the company has decided to establish an award program which recognizes the amazing and skilled advisors who do so much for their schools. The benefits of the program are associated with one of three reward levels which are Veteran Advisor, Master Advisor, and Elite Advisor. The types of benefits vary and range from free one-day production rush to complementary upgrades. The Elite Advisor level even provides a complementary trip to Entourage's annual Yearbook Advisor's Conference (Sign-up is available at http://www.entourageyearbooks.com/conference2016).
The qualities needed to be an Elite Advisor are multifaceted. When asked to describe these qualities, Account Manager Ellen Sillery named Lynn Greenberg of Five Points Elementary as someone who exemplifies an Elite Advisor. Ms. Sillery has described Ms. Greenberg as a "grand organizer of yearbooks." Organization skills, such as those demonstrated by Ms. Greenberg, are essential to the yearbook process because resources, like time and energy, tend to be limited. In fact, many yearbook advisors donate their personal time to the project. Skills related to leadership, organization, and communication, are important in this respect because they help advisors to use their resources more efficiently. In turn, yearbook advisors can do more of the things that they would like to do.
Creativity and technical expertise are other skills which have helped Ms. Greenberg to become an Elite Advisor. While Ms. Greenberg has demonstrated these skills in her original and customized graphic designs, Ms. Sillery noted that she has also demonstrated creativity in her innovative use of available technology. Like many other Elite Advisors, Ms. Greenberg has used social media to crowd-source photos and advertise.
This program reflects Entourage's mission to attract, train, and retain the best yearbook professionals in the industry and the company hopes that the benefits of the program will make life a little bit easier for those who do so much for their school communities. Recipients of an award will be notified by Entourage Yearbooks this month. Please contact Larry Johnson at 888-926-6571, ext. 85 or larry(at)entourageyearbooks(dot)com for more information.