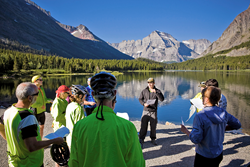 "Spring break is an ideal time to embark on a family adventure. Many of our destinations are not as crowded as in the summer and school break is a welcome respite for busy kids and their parents," said Backroads Founder and President, Tom Hale.
Berkeley, CA (PRWEB) February 17, 2016
Active Family Travel Vacations Still Open: Multitude of Activities with Zero Planning or Reservation Worries
Backroads, the world's leading active travel company, today announced a slew of spring break trips for the entire family ranging from Florida's Key West and the Everglades to Hawaii's Big Island, Costa Rica, Palm Springs and beyond. The all-inclusive family adventures offer the perfect blend of activity choices for all ages including biking, hiking, kayaking, cultural exploration, great food and unlimited opportunities for adventure.
Backroads makes traveling easy for families by handling all of the planning and logistics and making booking a breeze. Families traveling with Backroads find it easier to engage with the destination, with everything taken care of, there is less family tension and as kids unplug from their electronics opportunities for interaction abound. Each itinerary balances quality time together and apart, with welcome opportunities for everyone to take a break and recharge—usually impossible on a family vacation.
"Spring break is an ideal time to embark on a family adventure. Many of our destinations are not as crowded as in the summer and the school break is a welcome respite for busy kids and their parents," said Backroads Founder and President, Tom Hale. "Because we take care of all the details, families can fully relax and enjoy their time together, and even book last minute knowing we have reservations at the popular hotspots."
Some of the most popular family trips planned for spring break 2016 include:
California's Palm Springs & Joshua Tree Bike Tour (new in 2016)
Bike on quiet roads amid gravity-defying rock formations and Joshua trees, rock climbing, pool time at luxury hotels, bird watching, hiking and more.
Trip runs March 28-31
https://www.backroads.com/trips/BPJIF/palm-springs-joshua-tree-bike-tour
Everglades to Key West Family Multisport Adventure Tour
Winter sunshine in America's Caribbean – biking, walking & hiking, kayaking, snorkeling, glass-bottom boat rides, history, culture and relaxation
Trip runs: March 6-11, March 20-25, March 27 – April 1
https://www.backroads.com/trips/MKWIF/everglades-key-west-florida-biking-hiking-family-tour
Hawaii's Big Island Family Multisport Adventure Tour
Big-Time Fun on the Big Island from Coast to Crater
Trip runs: March 13-18, March 20-25, March 27-April 1, April 3-8
backroads.com/trips/MHWQF/hawaii-big-island-biking-hiking-family-tour
Costa Rica Family Multisport Adventure Tour (Family Breakaway and Family departures)
From Arenal Volcano to the Pristine Pacific Coast
Trip runs: March 14-19
backroads.com/trips/MCRI-9B/costa-rica-biking-hiking-tour
Santa Barbara & Ojai Valley Family Bike Tour
Rolling Waves and Rolling Hills on California's Coast
Trip runs: April 4-8
https://www.backroads.com/trips/BSOIF/santa-barbara-ojai-valley-family-bike-tours
Ecuador: Galapagos & Andes Multisport Adventure Tour
Ancient Culture & Wondrous Wildlife in Ecuador's Islands & Highlands
Trip runs: March 20-27, 2016
https://www.backroads.com/trips/MECQF/galapagos-andes-biking-hiking-family-tour
Caribbean Family Adventure Multisport Tour (new in 2016)
Beaches, Rain Forest and Volcanoes on Nevis & St. Kitts
Trip runs: March 21-26 and April 4-9
https://www.backroads.com/trips/MCBIF/caribbean-biking-hiking-tour
Argentina's Lake District Family Multisport Adventure Tour (new in 2016)
National Parks & Epicurean Delights in Patagonia
Trip runs: March 20-27
backroads.com/trips/MARIF/argentina-patagonia-biking-family-tour
Belize and Guatemala Family Multisport Adventure Tour
Jungles, Maya Temples & The Barrier Reef
Trip runs: March 13-19, March 20-26, March 27- April 2
backroads.com/trips/MBEIF/belize-guatemala-biking-hiking-family-tour
About Backroads
Backroads (http://www.backroads.com) was founded in 1979 by Tom Hale and has been in business for more than 37 years. The company hosts thousands of guests, 80% of whom are repeat guests or referrals from past guests, in hundreds of locations across the globe. Backroads was named one of the top 100 places to work by Outside magazine in 2015, and is a founding member of the Adventure Collection. For more information, please visit http://www.backroads.com or call 800-462-2848 daily, 6 a.m. to 6 p.m., Pacific Time.
###