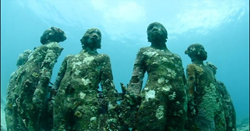 Peter Coyote: "This is absolutely beautiful. I'm so proud to be able to participate in it."
Los Angeles, CA (PRWEB) February 16, 2016
ECO Dox, LLC is proud to announce the release of 'Angel Azul' to all major US cable (Charter, Comcast, Time Warner, etc.) and internet VOD channels (iTunes, Amazon, etc.). After soaring to twelve film festival awards, this visually stunning film is now available and set to take a broader audience on a journey beneath the sea to explore the point at which art and ecology converge.
'Angel Azul' follows the artistic journey of Jason deCaires Taylor, an innovative artist whose vision creates artificial coral reefs from statues he's cast from live models. As algae begins to overtake the reefs, however, ocean science experts explore the perilous predicament coral reefs currently face and the solutions necessary to save them.
Generously narrated by Peter Coyote and recognized at film festivals like Woodstock, Raindance, Planet in Focus, and Wild & Scenic, 'Angel Azul' has been praised for its artistic beauty, as well as its scientific contribution to the health of underwater ecosystems.
"For a topic that largely condemns humanity's treatment of our ecosystems, 'Angel Azul' restores faith in the human spirit as we witness man-made art combine with the forces of nature." Matt Howsam, Raindance Film Festival
'Angel Azul' is distributed by GRAVITAS VENTURES and is represented by US Sales Agent ECO Dox, LLC.
ECO Dox is the Pacific Northwest's premiere documentary distribution consultancy, specializing in the marketing and sales of environmental and human rights-themed factual content.