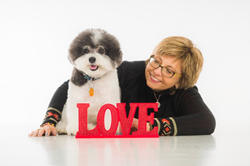 Dallas, Texas (PRWEB) February 11, 2016
In her book, Tucker Times: The Chase, Brown Books Publishing Group author Genella Macintyre uses her adorable pup, Tucker, to illustrate a valuable life lesson about love. "Like any child, Tucker needs guidance from those who love him to make good choices," says Macintyre. "For anyone giving guidance, 'no' isn't the end of the story but is rather a way of redirecting behavior for the best outcome."
According to Macintyre, love means that the word "no" is simply a method of stopping behavior. "If a behavior might have negative consequences, it can be quickly followed by a positive distraction that teaches a valuable lesson in love."
This Valentine's Day, Tucker Times: The Chase provides a wonderful example of how love can often be found in the form of valuable life lessons – even if it means saying "no."
About Brown Books Publishing Group (BBPG)
Founded by Milli Brown in 1994, Brown Books Publishing Group is a full-service, independent publisher of high-quality books across all genres, from nonfiction to fiction. Committed to producing award-winning books for authors who choose to retain the rights to their intellectual property, Brown Books publishes more than one hundred titles a year and has won numerous prestigious awards, including the Writer's Digest Grand Prize, Mom's Choice Award, Foreword Book of the Year, Gold Ink Award, Axiom Business Book Award and many more. Brown Books authors have appeared on programs and channels such as the "Today" show, Fox News, "Face the Nation," CNN and BBC News. They have been featured in publications such as USA Today, Publishers Weekly, and The New York Times. In addition, BBPG authors have been guests on NPR programming, including "The Diane Rehm Show," "Morning Edition," "The Takeaway," and "Tell Me More." To learn more, visit http://www.BrownBooks.com and http://www.BrownBooksKids.com.
About The Agency at Brown Books (ABB)
The Agency at Brown Books is a full-service public relations, marketing and branding firm within a publishing house. As a subsidiary of Brown Books Publishing Group, The Agency is backed by 20 years of excellence and experience, and the one-of-a-kind, integrated platform is available to Brown Books' authors as well as to non-affiliated authors, established writers, entrepreneurs, CEOs and anyone seeking smarter strategies for building their business. For more information, visit http://www.TheAgencyAtBB.com.
CONTACT: Vicki Morgan with The Agency at Brown Books at Vicki.Morgan(at)TheAgencyatBB(dot)com or 972.248.9500.
For more information and to purchase Tucker Times: The Chase, please visit http://www.TuckerTimesBooks.com.