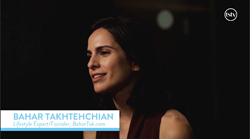 New York, NY (PRWEB) February 12, 2016
Travel Savvy TV, dedicated to bringing destinations to life through interviews with in-the-know locals, released two new episodes this week featuring Editor and Beauty Expert Bahar Takhtehchian and digital entrepreneur Vivek George.
Bahar Takhtehchian's Travel Savvy TV episode showcases her recommendations for portable, must-have beauty products perfect for any trip near or far. From anti-frizz hair products to sunscreens and toilettes, Bahar shares secrets hidden in her travel vanity bag. "Bahar's role as a Beauty Expert and TV personality puts her in front of the camera around the globe," explains Paula Keung, Editor in Chief of Travel Savvy. "She knows how to keep looking fresh under any circumstance!"
Vivek George is the founder of the dining app Salt, which allows users to catalog favorite restaurants, cafes and bars. In his episode, Vivek talks about the best destinations for Indian food across the five boroughs of New York City. From delicious dosas at a canteen under a Queens Hindu temple to savory tiger prawns at the elegant restaurant Junoon in the Flatiron, Vivek's Indian food picks will leave your mouth watering.
Along with Takhtehchian and George's episodes, Travel Savvy TV will also launch a Valentine's Day We Hear episode, dedicated to year's most romantic holiday. Episodes of all Travel Savvy programs stream free on their dedicated channels on Apple TV and Roku.
All videos are shot and produced in partnership with Chatty Cat Productions, a full-service video company based in New York, Los Angeles, and Miami.
ABOUT TRAVEL SAVVY and TRAVEL SAVVY TV
Travel Savvy is a travel media company that is wholly owned by 495 Communications. Travel Savvy was originally a newsstand-based magazine that was transitioned to a tablet-based platform in 2010. Since 2014, the brand has also added video production to the distribution channels, and currently delivers millions of views daily across multiple platforms. Travel Savvy currently produces two original series: We Hear, dedicated to reporting "News, Notes, and Deals from the Travel Industry," and the eponymous Travel Savvy TV, which brings destinations to life through interviews with in-the-know locals.
ABOUT 495 COMMUNICATIONS
495 Communications is dedicated to providing the best digital video advertising products on the market. From programmatic network offerings to videos and pre-roll creative production, 495 Communications services today's ever expanding video marketplace. 495 Communications has offices in New York, Santa Monica, and San Francisco. Visit http://www.495communications.com for more information.
ABOUT CHATTY CAT PRODUCTIONS
Chatty Cat Productions is a full service video production company headquartered in New York CIty, with satellite offices in Los Angeles and Miami. Chatty Cat Productions is committed to bringing creative, quality content to digital brands looking to increase their influence in the quickly growing video market. With years of experience working with a variety of high-profile brands, Chatty Cat Productions offers superb production value to their growing list of clients. Visit http://www.chattycatproductions.com for more information.
For more information contact:
Travel Savvy
Christopher Castellani, Site Director
(888) 983-1620
ccastellani(at)495communications(dot)com