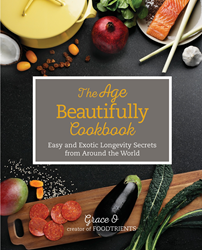 Los Angeles, CA (PRWEB) February 11, 2016
Grace O, author and creator of FoodTrients®, has a new cookbook published by Skyhorse Publishing dedicated to age-defying and delicious recipes. The Age Beautifully Cookbook: Easy and Exotic Longevity Secrets from Around the World (Skyhorse Publishing; April 5, 2016; 978-1-63450-797-4) is now available for pre-order on Amazon and Barnes and Noble.
Eating well doesn't mean sacrificing the foods people love or satisfying meals. The Age Beautifully Cookbook provides one hundred-plus recipes that promote health and well-being. The recipes are built on foundations of modern scientific research and ancient knowledge of medicinal herbs and natural ingredients from around the world.
Since the publication of her first anti-aging book, The Age GRACEfully Cookbook, Grace O has identified eight categories of FoodTrients that are essential to age-defying and healthier living. Specifically designed logos represent each category and are indicated with every recipe along with summaries of the recipe's healthful properties. These benefits show how specific foods, herbs, and spices in the recipes help keep skin looking younger, prevent the diseases of aging, and increase energy and vitality.
By incorporating these properties in an everyday diet, people are more likely to look and feel younger, have more energy, and improve their mood and mind. Who knew that the right foods in sufficient amounts could do so much good for the body? Now there is the science to prove it.
Grace O combines more exotic ingredients that add age-fighting benefits to familiar recipe favorites. She has been cooking with moringa leaves for decades, and includes them in her soup, salad and even dessert recipes. Moringa, which has been popular in Asia and India for centuries and is just appearing in the U.S., provides proteins, calcium, and iron, plus vitamins A and C and potassium. The antioxidants in the dark green leaves boost cellular health, which helps us age gracefully.
Grace O was introduced to baobab, a super-fruit from Africa, several years ago. After testing a variety of ideas using baobab powder, she developed a delicious dessert or snack recipe in her new cookbook, Baobab Butter Squares. It's a new and even tastier take on a lemon bar.
Ashitaba, native to Japan, is known as the 'longevity herb' and is used medicinally for many conditions and shows evidence of exhibiting anti-inflammatory and antioxidant effects. Grace O's Ashitaba Potato Salad put a powerful nutrient punch into one of America's favorite dishes. Here is her recipe:
Ashitaba Potato Salad
Serves 4
1 1⁄2 lb. fingerling potatoes
1 cup green beans, trimmed and cut into 1-inch pieces
1⁄2 cup cubed Fuji apple, skin on
1⁄4 cup diced celery
1⁄2 cup young ashitaba leaves, torn into small pieces, plus extra, as garnish
1 cup Watercress Dressing
1. Cube or slice the potatoes and simmer in salted boiling water for 12–15 minutes or until tender but not mushy. Drain and cool.
2. Blanch the green beans in boiling water for 5–6 minutes and then shock them in an ice bath to set the color.
3. Combine the potatoes, green beans, apples, celery, and ashitaba leaves, and toss with the dressing.
4. Divide among 4 bowls and garnish with the ashitaba leaves.
CHEF'S NOTE: You can order an ashitaba plant from online sources or seeds for planting at Horizon Herbs, horizonherbs.com. I find this potato salad delicious even without the ashitaba leaves.
Watercress Dressing
Yields 2 cups
1 cup plain Greek yogurt
1 cup whole watercress leaves, without stems
1⁄4 cup crumbled feta cheese
1⁄2 tsp. salt or salt substitute
Dash of black or white pepper
Grace O created this dressing for her Ashitaba Potato Salad but you can use it on just about any green leafy salad with fresh vegetables. For a thinner dressing, use regular or low-fat yogurt. Marinated or flavored crumbled feta cheese might be fun to use in this recipe. Other nice additions would be ¼ tsp. crushed garlic and/or ⅛ cup red onion.
Place all the ingredients in a blender and whirl together for about 30 seconds or until the watercress leaves are finely chopped.
CHEF'S NOTE: If you want to mix this by hand instead of using a blender, just chop the watercress finely and fold all the ingredients together.
The Age Beautifully Cookbook: Easy and Exotic Longevity Secrets from Around the World is available in both hardcover and eBook online and at bookstores nationwide.
About the Author
Grace O has been cooking and baking professionally all of her adult life. As a young adult in Southeast Asia, she managed her family's cooking school and eventually opened three restaurants. Grace has worked more than twenty years in the health-care industry and is the owner and CEO of three skilled nursing facilities in California. She is also the author of The Age Gracefully Cookbook and lives in Pasadena, California. Visit Grace O's website at http://www.FoodTrienst.com
About FoodTrients
Combining her passion for food and a lifelong commitment to promoting a healthy lifestyle, Grace O has created FoodTrients®, a unique program for optimizing wellness. A FoodTrient is her name for the natural anti aging properties of food. Grace O is a fusion chef with a mission: to cook up recipes for sustaining a long and joyful life that are built on a foundation of anti-aging science and her work in the health care industry. Mixing foods and unique flavors culled from a lifetime of travels in Asia, Europe, and America, Grace O encourages young and old to celebrate a full life that embraces diversity. Lifestyle tips, age-defying recipes, and secrets of the healing properties of food are the centerpiece of FoodTrients– all available through cookbooks, the website, e-newsletters, and much more. For more information visit foodtrients.com and at facebook.com/foodtrientsagegracefully.
The Age Beautifully Cookbook
Easy and Exotic Longevity Secrets from Around the World
By Grace O
Skyhorse Publishing hardcover (April 5, 2016)
280 pages | ISBN-10: 1634507975 | Price: $24.99
The Age GRACEfully Cookbook
The Power of FOODTRIENTS To Promote Health and Well-being for a Joyful and Sustainable Life
By Grace O
Skyhorse Publishing hardcover
152 pages | ISBN-13: 978-1-63450-378-5 | Price: $19.99
EBook ISBN-10:1634503783 Price: $13.99