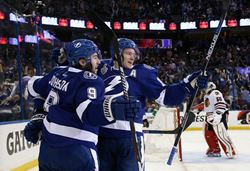 We believe that partnering with Florida Hospital to educate Lightning fans about heart health is critical to helping save lives.
Tampa, FL (PRWEB) February 11, 2016
Florida Hospital presents Heart Health Awareness night on Sunday February 14th, as the Tampa Bay Lightning take on the St. Louis Blues at the Amalie Arena. The puck drops at 6:00pm, but fans will have the opportunity to experience the world's only portable, inflatable, walk-through heart exhibit, the MEGA Heart, prior to the game. The MEGA Heart will be located on Ford Thunder Alley and provide fans with a highly interactive educational experience about American's number one killer: heart disease. According to the Centers for Disease Control, heart disease claims more lives every year than all cancers combined. Heart disease is still the leading cause of death for both men and women. The MEGA Heart is about 26 feet long by 16 feet wide by 13 feet high. Visitors will be able to enter the exhibit through the largest vein that feeds the heart, the superior vena cava, and exit through the largest artery that leaves the heart, the aorta.
"Florida Hospital is at the forefront of prevention, diagnosis and treatment of heart disease, by utilizing groundbreaking research and leading edge medicine. We know that education and prevention are key components in the fight to save lives from heart disease. By bringing the MEGA Heart exhibit to the Lightning fans, we hope people become better educated while having fun learning about the heart. This knowledge will help them do a better job of taking care of themselves and their loved ones," said Dr. Charles Lambert, Medical Director of the Florida Hospital Pepin Heart Institute.
Lightning Head Coach Jon Cooper, along with the Lightning staff will wear red ties in support of Heart Health Awareness night. In addition, Sun Sports on-air talent Rick Peckam, Brian Engblom, Paul Kennedy and Bobby Taylor will also wear red ties while they interview Dr. Lambert during the game's telecast. The Florida Hospital team will also educate fans about simple ways to improve cardiovascular health and give away 20,000 "I Heart Bolts" visors to the first 20,000 fans who enter the arena. Florida Hospital will feature public service announcements and three lucky fans will have a chance to win a team signed Bolts hockey stick. Fans will also see a heartwarming story during the game titled "Celebrate Life."
This series highlights a special member of the community who was positively impacted by the care received at Florida Hospital.
"We believe that partnering with Florida Hospital to educate Lightning fans about heart health is critical to helping save lives, said Lightning Chief Executive Officer, Steve Griggs. "As our Official Health and Wellness sponsor, Florida Hospital does a tremendous job in leading our wellness initiatives all season long. The Lightning is grateful for the continued relationship with the hospital's entire team."
Fans will also have fun on the plaza prior to the game at the Florida Hospital selfie station where they can make a sign about who their heart belongs to and get a chance to display fandom in fun Bolt-themed gear. Fans will also have an opportunity to meet professional women's hockey player and Olympic silver medal winner, Anne Schleper. She will be available to sign autographs and share here experience as an Olympic champion.
Florida Hospital is the Presenting Sponsor of the 2015-16 season, as well as the team's Official Health and Wellness Sponsor. Florida Hospital will also be the Associate Sponsor of the Lightning's annual Bolt Run on March 26, 2016.
About Florida Hospital West Florida Region
The Florida Hospital West Florida Region is a not-for-profit 1,275-bed hospital system composed of 9 hospitals including Florida Hospital Tampa/Florida Hospital Pepin Heart Institute, Florida Hospital Carrollwood, Florida Hospital at Connerton Long Term Acute Care, Florida Hospital Zephyrhills, Florida Hospital Wesley Chapel, Florida Hospital North Pinellas, Florida Hospital Heartland Medical Center Sebring, Florida Hospital Heartland Medical Center Lake Placid and Florida Hospital Wauchula. Part of the Adventist Health System, Florida Hospital is a leading health network comprised of 22 hospitals throughout the state. For more information, visit http://www.FloridaHospital.com.
About Tampa Bay Sports and Entertainment, LLC
The 2004 Stanley Cup Champion Tampa Bay Lightning and the leasehold rights to Amalie Arena were purchased by an entity controlled by Jeffrey Vinik in March, 2010. Shortly thereafter, Vinik also purchased the Tampa Bay Storm of the Arena Football League. Since acquiring these assets, Vinik has spearheaded a complete brand and business transformation of the teams and the arena under the banner of Tampa Bay Sports and Entertainment, LLC. The Lightning advanced to the Eastern Conference Final of the Stanley Cup Playoffs in 2011 and Amalie Arena received a $42 million renovation later that summer. The following summer the organization announced plans to install a new center-hung scoreboard, larger than any other arena in the United States and Canada. Under the new ownership and management group, the fans have responded, more than doubling the team's season ticket base. Vinik and the rest of his management team continue to move the organization forward with eyes on success on the ice as well as a world class organization off of it.