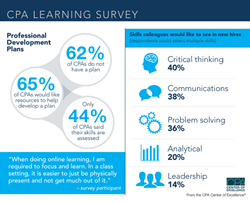 CPAs want options for professional development and need help mapping out those plans.
Indianapolis, IN (PRWEB) February 11, 2016
The CPA Center of Excellence® recently conducted a survey of nearly 700 Indiana CPAs to gauge their learning preferences and the skills they need to enhance. The results further validate the growing need for online, interactive competency-based learning, soft skills assessment and development, and collaboration - the foundation on which the CPA Center of Excellence® was established in 2014.
"The survey results confirm what we've known to be true for some time now," said Indiana CPA Society President & CEO Gary Bolinger, CAE. "First, that mastery of non-technical skills is critical for current and future CPAs. Second, the current hours-based system of education is outdated and not meeting CPAs' needs. And third, CPAs want options for professional development and need help mapping out those plans."

In terms of specific types of training, 75 percent of respondents said they need technical accounting, auditing and tax education as expected. But more than 40 percent (respondents could choose multiple types of education) said they also needed non-technical education such as leadership, critical thinking and communications training. And 13 percent indicated that they needed ethics training as well.
Classroom and device training preferences -
Classroom training was the top choice among CPAs for a learning environment; however, nearly 30 percent said they are most successful in online webinars while over 20 percent said they are successful in online self-study. These online education percentages are believed to be higher than in prior years. As far as devices used for online education, the laptop was used most, followed by a desktop, tablet and smartphone.
Most effective group sizes -
Two questions addressed learning group size. Larger groups were the preference for both classroom and online learning. In a classroom environment, 93 percent preferred class sizes of 10 or more. In an online environment, 81 percent preferred groups of at least that size as well.
Formal vs. informal settings -
When asked simply about their preferences between formal and informal settings for learning, nearly 64 percent of respondents preferred informal settings. And in terms of learning formats, an interactive format was the top vote-getter, followed by lecture and experiential.
"Formal is too restricted. There are often good ideas by the participants in classroom CPE, and they can offer valuable insight at times. A combination of lecture and interactive is best," said one survey respondent. Another commented, "Informal settings usually allow for more participation and knowledge sharing of participants."
A third respondent provided a perspective that contrasts competency-based learning with the current hours-based model: "I like to learn at my own pace. When doing online learning (such as CPA Center of Excellence® training), I am required to focus and learn. In a class setting, it is easier to just be physically present and not get much out of the class."
Competency-based learning -
More than 35 percent of respondents agreed a shift to competency-based education for CPAs is needed, while only 16 percent disagreed. Nearly 50 percent said more information was needed to form an opinion. The Indiana CPA Society and the CPA Center of Excellence® have been leaders in the movement toward a competency-based continuing professional education system for CPAs. A competency-based approach simply means that competency must be demonstrated in order for a participant to advance through or complete a course.
How employers handle soft skills -
A related question asked how the CPA's employer addressed the need to develop non-technical (soft) skills. Nearly 45 percent indicated their employer believes this education should be included within their continuing professional education requirements, while another 20 percent offer to pay for this training in addition to other continuing professional education. At the present time, CPAs in Indiana are required to obtain 120 hours of training every three years.
Professional development plans -
Three other questions dealt with professional development plans. More than 62 percent said they do not currently have a plan, and nearly 65 percent would like resources to help develop one. Of those that do have a plan, only 44 percent said that their skills development is assessed.
Most-desired personal skills -
Finally, in terms of specific skills necessary to them personally, communications was first at 23 percent, with critical thinking second at 19 percent, problem solving third at 18 percent, leadership fourth at 17 percent and analytical fifth at 16 percent. Among new hires, the skills most lacking were critical thinking, communications, problem solving, analytical and leadership.
"The CPA Center of Excellence® had the foresight to develop resources that help CPAs prepare for the future," said Jess Halverson Bowyer, strategist - CPA Center of Excellence®. "There is a clear need for soft skills development and assessment for CPAs at all career levels. The CPA Center of Excellence® has the education and tools to enable CPAs to increase their individual value, advance their personal careers, and expand their firm's or company's business."
Further analysis of the data by the Indiana State University Scott College of Business faculty will be available in the near future. 
###
ABOUT THE CPA CENTER OF EXCELLENCE®
The CPA Center of Excellence® is an entity that provides leadership, best practices, research, support and training in the focus area of soft skills for professional service providers, especially CPAs. It has five main components. The Insight HR & Career Development Toolkit, the handbook CPA Excellence A Quick Start Guide to Defining and Mastering Vital Skills for Success, a series of online interactive courses, a multi-featured online community, and member networks in which CPA colleagues interact with each other in person and online.
The components complement each other but are also beneficial individually. The toolkit is the starting point. The book is a planning guide and framework for human resource strategies that contribute to talent development in non-technical skills such as communications and critical thinking. The online interactive courses have elements of social, competency-based, interactive and on-demand learning, and the knowledge they develop supports the rest of system. The online community and member networks enable CPAs to share knowledge and further develop skills.
The CPA Center of Excellence, Inc. is a wholly-owned subsidiary of the Indiana CPA Society. Its products and services are relevant to CPAs not only in Indiana, but throughout the United States, as well as to accounting professionals globally.
For more information about the CPA Center of Excellence®, contact Jess Halverson Bowyer, strategist - CPA Center of Excellence®, at (317) 726-5027 or jess(at)cpacoe.com, or go to cpacoe.com. Indiana CPA Society President & CEO Gary Bolinger, CAE, is also available for interviews by contacting Dave Shatkowski at (317) 726-5022 or dshatkowski(at)incpas.org.
Visit cpacoe.com for more information.
Contact: Dave Shatkowski, Indiana CPA Society
Phone: (317) 726-5022
Email: dshatkowski(at)incpas.org