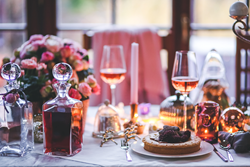 Valentine's Day Events in the Northern Georgia Mountains
Atlanta, Georgia (PRWEB) February 12, 2016
Real Estate Scorecard senses love in the air at the Currahee Club, an award winning mountain and lake community full of great people and cozy Georgia mountain properties. For the Valentine's holiday weekend, there will be scrumptious food, specialty cocktails, romance and surprises for residents and guests. Folks looking for a special place to bring that special someone, or hope to meet someone new, are invited to spend an enchanting day at the elegant Currahee Club.
Valentine's Day at Currahee Club will include:
A Daddy-Daughter Dinner on Feb. 11
Sweetheart Dinner for the weekend of Valentine's Day, with Saturday night dedicated for the traditional Prime Rib Night
Valentine's Day Brunch on Feb. 14
The weekend promises to be a memorable one for everyone. And to mark the occasion, Director of Food & Beverage Monica Kendrick has announced that from this year on, she will be "sharing the love" with members for their birthdays and anniversaries. Beginning in 2016, members will receive a special treat if they come to the club to eat during the week of their birthday or anniversary.
Currahee Club is a natural sanctuary for those who want to enjoy their retirement in Georgia. The gated community offers safe, luxurious living, first-class amenities, and one-of-a-kind Georgia mountain properties. Residents at Currahee Club enjoy championship golf, fishing and boating on Lake Hartwell, and a state-of-the-art clubhouse. Currahee Club is ideal for those who want to stay active during their retirement in Georgia.
Georgia mountain properties at Currahee Club begin in the $300k's and sell for well over $1 million. Whether folks prefer a waterfront estate, or a cozy home for two, there plenty of desirable options for retirement in Georgia. Amenities at Currahee Cub include:
Scenic, Southern Dining at The Overlook Restaurant
Outdoor Swimming Pool
Two Tennis Courts
Modern Fitness Center
Volleyball, Basketball, and Bocce Ball Courts
Even More Food and Spirits at The Canoe Bar and Grille, Fazio Pub, and The Turn Golf Snack Shop
Recently, one of the biggest draws to Currahee Club has been the delicious food. This is thanks to Chef Anca Timmons and F&B Director Monica Kendrick. Mrs. Timmons completed her culinary studies at The Institute of America in NY, and previously worked as a Sous Chef and a Chef Manager at Reynold's Plantation.
Mrs. Kendrick has Food and Beverage experience across the USA, with much of it in high-end country clubs and PGA Tour locations. These include TPC at Preastancia (Sarasota, FL), TPC of Tampa Bay (Tampa, FL), TPC at Sawgrass (Ponte Vedra, FLC), TPC at Summerlin (Las Vegas, NC) and TPC at Jasna Polana (Princeton, NJ). Which makes Mrs. Kendrick a natural fit for Currahee golf club.
Always looking to capitalize on holidays and happenings, and to bring new events to Currahee's members, Mrs. Kendrick has made plenty of plans for a fantastic 2016. The new year's calendar includes returning and new events, such as Women's Club, Book Club, Bunco, Member Appreciation Events, Lunch & Learn, Masters Party and more. And so far this year, the menu at Currahee Club has been a hit with residents, especially the Coffee Rub Pork Tenderloin and hot buttered rum. Both are perfect recipes in the chillier months of the year!
Fall in love at the Currahee Club. Check out their delicacies by Chef Anca, or play a challenging game at the Currahee golf club. Folks can become a special Member For A Day. Besides hitting the sticks at Currahee golf club, becoming a Member For A Day allows folks access to the community's sports and wellness amenities, as well as tour some of the community's beautiful Georgia mountain properties.
To become a Member For A Day, call the Currahee Club directly at 888-560-2582.
About Real Estate Scorecard:
Real Estate Scorecard writes unbiased real estate reviews providing in-depth information about popular gated communities in Florida, Georgia, the Carolinas, Tennessee and Central America, all in an effort to help people discover where to retire in the South.
Website: http://realestatescorecard.com