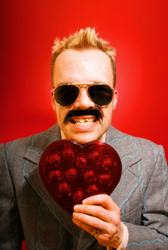 If someone doesn't like you for who you are, he or she is not the ONE for you.
Montreal, Canada (PRWEB) February 13, 2016
In the early or "honeymoon" stage of a relationship, couples strive to put their best foot forward. They'll groom themselves to perfection, go out of their way to be romantic, and may exaggerate a strength or two in an effort to impress their date – just take a look at any online dating profile.
A recent study from Queendom.com, however, suggests that new couples who venture out this Valentine's Day shouldn't be afraid to be themselves, even if they have a few quirks or faults. Their research indicates that people who are genuine and straightforward tend to be more confident and happy, compared to those who put on a mask or try to be someone they are not.
Researchers at Queendom studied two contrasting groups of people who took their Big 5 Personality Test - a sample of 3,212 in total:

The "Authentic" group believes in being honest in relationships, even if it means revealing their faults to their partner or friends.
The "Pretender" group, on the other hand, believes that a certain amount of deception is necessary in relationships. They also admit that they intentionally present themselves in ways that are very different from who they really are.
When researchers compared the groups on factors like happiness, frequency of conflict, and self-confidence, the differences were noteworthy.

When asked whether they have close friends, 1% of the Authentic group and 7% of the Pretenders confessed that they didn't have anyone in their life that they could consider a close friend.
When asked to rate their social popularity, 8% of the Authentic group and 26% of the Pretenders rated themselves as being fairly unpopular.
When asked to rate their level of happiness, 13% of the Authentic group and 41% of the Pretenders indicated that they are rather unhappy.
When asked how frequently they experience conflict, 18% of the Authentic group and 43% of the Pretenders indicated that they find themselves getting into arguments more often than other people.
When asked whether they used the services of a therapist in the last year, 17% of the Authentic group and 27% of the Pretenders admitted to doing so.
Researchers at Queendom also compared the two groups on various personality traits, revealing once again that putting on a mask can take a psychological toll. The Authentic group outscored the Pretenders on several factors, including:

Resilience/Ability to handle stress: The Authentic group had an average score of 71, compared to 60 for the Pretenders (on a scale from 0 to 100).
Anger Management: 71 for the Authentic group vs. 51 for the Pretenders
Self-Confidence: 73 for the Authentic group vs. 58 for the Pretenders
Willingness to trust others: 63 for the Authentic group vs. 35 for the Pretenders
Likeability: 73 for the Authentic group vs. 54 for the Pretenders
Kindness: 78 for the Authentic group vs. 57 for the Pretenders
Competitiveness: 30 for the Authentic group vs. 44 for the Pretenders
"Pretending to be someone you're not will almost always backfire, and as our study shows, people who are disingenuous are also likely to struggle with a host of other issues," explains Dr. Jerabek, president of PsychTests, the company that runs Queendom.com. "Despite doing their best to be perfect or to be the person that they think others want them to be, the Pretenders still struggled with their confidence, and were still not as popular as they had hoped…essentially, they either weren't fooling anybody or they went too far. So not only is walking around in the guise of a fake persona tiring and suffocating, it also won't really get you what you want, whether it's love or popularity."
"There's an important lesson here: If you go into a relationship thinking that you have to be someone you're not because the 'real' you isn't good enough, you're walking on a slippery slope. Most people can sense when someone is lying to them or being fake. The bottom line is if you show your true self, faults and all, you may risk rejection, but it's better than having someone fall in love with an illusion, particularly an illusion that you would need to keep up for the rest of your life. Don't be afraid to be yourself. If someone doesn't like you for who you are, he or she is not the ONE for you."
Which traits make up your amazing personality? Go to http://www.queendom.com/tests/take_test.php?idRegTest=3891
Professional users of this assessment (therapists, life coaches and counselors) can request a free demo of the Big 5 Personality Test or any other tests from ARCH Profile's extensive battery: http://hrtests.archprofile.com/testdrive_gen_1
To learn more about psychological testing, download this free eBook: http://hrtests.archprofile.com/personality-tests-in-hr
About PsychTests.com
PsychTests.com is a subsidiary of PsychTests AIM Inc. PsychTests.com is a site that creates an interactive venue for self-exploration with a healthy dose of fun. The site offers a full range of professional-quality, scientifically validated psychological assessments that empower people to grow and reach their real potential through insightful feedback and detailed, custom-tailored analysis.
PsychTests AIM Inc. originally appeared on the internet scene in 1996. Since its inception, it has become a pre-eminent provider of psychological assessment products and services to human resource personnel, therapists, academics, researchers and a host of other professionals around the world. PsychTests AIM Inc. staff is comprised of a dedicated team of psychologists, test developers, researchers, statisticians, writers, and artificial intelligence experts (see ARCHProfile.com). The company's research division, Plumeus Inc., is supported in part by Research and Development Tax Credit awarded by Industry Canada.