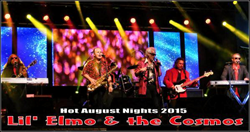 "Our Boomer generation founded rock and roll and we're not going quietly!" - Michael Bayouth, world-renowned film artist and band founder.
Los Angeles, CA (PRWEB) February 16, 2016
Say it isn't so – the Boomers, the generation that reigned supreme, is now getting old. This past January saw the passing of music legends David Bowie, The Eagles' Glenn Frey, and Jefferson Airplane's Paul Kantner, as Boomers felt their grip slip on their fiercely held culture. In addition, the Millennials, those born from 1981 to 1997, also recently surpassed the Boomers as the nation's largest living generation.
"The Millennials may have surpassed us in numbers, but will they surpass our music? That is the question," says Michael Bayouth, world-renowned film artist and founder of America's favorite vintage rock and roll band, Lil' Elmo & The Cosmos. Bayouth adds, "Our Boomer generation founded rock and roll and we're not going quietly. Our mission, now more than ever, is to unite the tribe and rock till we drop!"
On Sunday, February 21, 2016, from 3:00 – 7:00 p.m. the Sagebrush Cantina in Calabasas, California will feature Lil' Elmo & The Cosmos live. Their "Rockin' The Past" show will be the ultimate rockin' dance party at no charge to the public. This event will launch their Boomer-attitude apparel brand featuring Bayouths' slick graphics, and the catchphrase from their new, fifth CD entitled, "Not Going Quietly," which features their hit single, "Chick City." The apparel is available now on pre-order at lilelmo.com. A portion of the apparel proceeds will go to Cancer research.
"The Lil' Elmo Brand is for Baby-Boomers," says promoter Joe Biafora, "The ones holding the greased rope - the ones who won't go quietly. We've made our mark and now it's time our tribe has our own brand. From our generation of hot rods, hairstyles and rock and roll, comes Lil' Elmo – an irreverent new mascot reflecting our older generation. A time that defined America, music, and let's face it, a time that was ultimately, optimized for cool."
The band has performed with multiple superstar head-liners from Tony Bennett to Ray Charles to The Righteous Brothers, rocked high-end corporate gigs for Ford, Disney, ABC and Budweiser, played for the LA Lakers, Raiders and five Super Bowls, as well as headlined the MGM Grand, Harrah's and Bellagio casinos.
The Sagebrush Cantina is located at 23527 Calabasas Rd, Calabasas, CA. Visit sagebrushcantina.com, or call (818) 222-6062 to book ahead as this show may sell out.
As a California, Taft High School, band that formed in the San Fernando Valley in 1973, Lil' ELmo & The Cosmos still tours the world today - playing fairs, festivals, corporate and private events, fund-raisers, concerts and casinos. Their set list has long been touted as "The music that was playin' in the front seat while America was playin' in the back."
To book their "Rockin' The Past" tour, buy Lil' Elmo apparel or their latest CD, visit lilelmo.com, Reverbnation, friend the band on Facebook, contact Joe Biafora at (818) 416-0511 or email the band at jbiafora(at)la.twcbc (dot)com.
Based out of Santa Barbara, CA since 2008, Innovative Creative is a PR company producing successful content and campaigns for music, film, publishing and non-profits. Visit innovativecreativeco (dot) com.