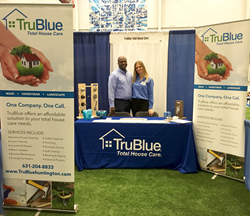 Huntington, NY (PRWEB) February 11, 2016
When Jersen Louis-Jean's parents needed help with their Long Island home, his wife Aga Louis-Jean couldn't believe how many contractors they had to work with to cover all the bases. Wouldn't it be easier if people could just work with one company that managed all those tasks? That's why Aga decided to launch TruBlue Total House Care of Huntington.
TruBlue of Huntington provides professional total house maintenance including maid and handyman services, yard work and other property care services. All service plans are customized to meet individual clients' needs. TruBlue also specializes in home modifications for seniors, including knob replacement, switch and outlet access, grab and hand rail installation, ramp installation and more.
TruBlue of Huntington serves Huntington, Melville, Northport, Dix Hills, Commack, Farmingdale and the surrounding communities. The company's mission is to give people their weekends back and help seniors age in place.
"Jersen's parents needed help taking care of the house and they had to call so many different companies to handle the needs of one home. It's stressful and time consuming to try to manage that many contractors and it's not something people want to do. We talked about how it would be great if one company could handle that process – and then we found TruBlue. Once we met the team and learned more about the company, we knew it was exactly what they needed and, since there wasn't a TruBlue in this area, we decided to open one," Aga said.
Aga is leading the business with Jersen's support. Aga and Jersen are both from Long Island – Jersen attended Walt Whitman High School in Huntington and graduated from Adelphi University. Aga has a business degree from Farmingdale University and a master's degree in education. The couple has two daughters – Khloe and Mia.
"We left Long Island to pursue our careers but we're happy to be back serving our neighborhood. We are also trying hard to keep the business in the family – Aga's mom and aunt have more than 10 years of experience in maid service and her dad is a wonderful handyman. We're hoping we can involve them in the future of TruBlue," Jersen said.
For Aga, owning TruBlue is about more than handling pesky house work for her neighbors. It's really about giving people their lives back and improving their quality of life. She also wants potential clients to know that, since she's not selling improvement products or services, people can trust her and her team to be down-to-earth about property needs.
"At TruBlue, we are here to help you maintain your home instead of trying to sell you something you might not need. If we can fix a faucet instead of doing a full replacement, we'll let you know. You can trust us to be honest about your property and your needs," Aga said.
"By working with TruBlue, people can get their weekends back and free up time to spend with their family and friends. Time is precious and it's important to be able to spend it doing things you love with people you love," she added.
If you're ready to take back your weekends and tear-up that to-do list, contact TruBlue Total House Care of Huntington at (631)204-8833, email ALouis(at)TruBlueHouseCare.com or JLouis(at)TruBlueHouseCare.com or visit http://www.TruBlueHuntington.com.
About TruBlue Total House Care
TruBlue Total House Care provides one convenient and affordable solution for all your house care needs – inside and out. TruBlue's services include maid services, household repairs, yard work, emergency repairs and seasonal work, all handled by a personal House Care Manger. These affordable services are available year-round and customized to meet your needs and budget. TruBlue strives to provide affordable, worry-free living for seniors and hassle-free living for busy adults with the goal of eliminating the worries, hassles and headaches of home maintenance by providing full-service, trustworthy house care services to fit any budget.