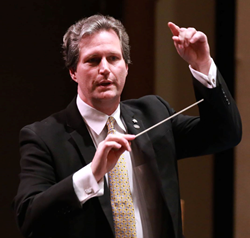 Riggs's dedication to the cause of music education nationwide is critically important. He is an exemplary member of NAfME, and we applaud him.
RESTON, VA (PRWEB) February 11, 2016
The National Association for Music Education (NAfME) congratulates music educator Phillip Riggs on receipt of the prestigious 2016 Music Educator AwardTM. The honor presented by The Recording Academy® and the GRAMMY Foundation® is well-deserved. Riggs is a 23-year member of NAfME and the North Carolina Music Educators Association. Riggs has taught band and choir in North Carolina for the past 27 years. He currently teaches at the North Carolina School of Science and Mathematics in Durham, NC.
"We are thrilled that Phillip Riggs has received this deserved recognition," said Michael A. Butera, Executive Director and CEO of NAfME. "He has orchestrated success in the lives of his band and choral students, as they have testified, which will continue to benefit them as they take music learning with them the rest of their lives. Riggs's dedication to the cause of music education nationwide is critically important. He is an exemplary member of NAfME, and we applaud him."
As the GRAMMY Foundation describes, the Music Educator Award was established to recognize current educators (kindergarten through college, public and private schools) who have made a significant and lasting contribution to the field of music education and who demonstrate a commitment to the broader cause of maintaining music education in the schools.
In this third year of the award, 80 percent of the finalists for the Music Educator Award are members of NAfME. All of these teachers' positive impact on their students' lives and tireless advocacy for music education are invaluable in U.S. education today.
The deadline for the 2017 GRAMMY Music Educator Award nominations is March 15, 2016. The deadline to apply is March 31, 2016: http://www.grammymusicteacher.com.
The award is open to current U.S. music educators, and anyone can nominate a teacher—students, parents, friends, colleagues, community members, school deans, and administrators. Teachers are also able to nominate themselves.
###
National Association for Music Education, among the world's largest arts education organizations, is the only association that addresses all aspects of music education. NAfME advocates at the local, state, and national levels; provides resources for teachers, parents, and administrators; hosts professional development events; and offers a variety of opportunities for students and teachers. The Association orchestrates success for millions of students nationwide and has supported music educators at all teaching levels for more than a century. With more than 60,000 members, the organization is the national voice of music education in the United States.
Follow NAfME on Twitter (twitter.com/nafme) and on Facebook (facebook.com/nafme).
For additional information, contact Catherina Hurlburt at catherinah(at)nafme(dot)org or 703-860-4000, ext. 242.