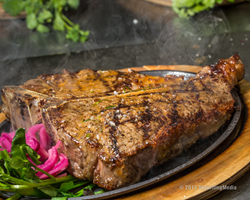 New York, NY (PRWEB) February 13, 2016
K Rico South American Steakhouse, recipient of a Diner's Choice Award from Open Table, celebrates its one-year anniversary on March 22, 2016.
Brothers John Philip and Tommy Greco, owners of this fine-dining establishment in the heart of Hell's Kitchen, are marking the milestone with a week-long tantalizing menu of daily specials.
"It was a lifelong dream to open this style of restaurant, celebrating the South American culture and cuisine," explains co-owner John Greco. Adds brother Tommy, "My brother and I traveled extensively throughout the region, taking back a wealth of knowledge about the food and drink."
In other news, K Rico now serves a specially-priced weekend brunch menu, highlighted by continual Mimosas, Bloody Marys and Margaritas for $22.95/person. The food choices range from such South of the Border delicacies as "Arepas" and "Empanadas" to main dishes "Chilaquiles," Crispy Pork Belly and Eggs, as well as the signature K Rico Omelette and Prime Steak 10 Oz Burger.
K Rico is open for lunch, dinner and weekend brunch Tuesdays through Sundays at 772 Ninth Avenue between 51st and 52nd Streets. Lunch is served Tuesday through Friday from 11AM - 4PM and weekend brunch starts from 10AM - 4PM. Dinner is available nightly (except Mondays) from 5PM - 1AM.
Reservations are strongly recommended and can be made by calling the restaurant at 212-757-9393 or via http://www.kriconyc.com