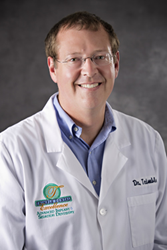 Menomonie, WI (PRWEB) February 11, 2016
Dr. Bruce Trimble is excited to now offer three different kinds of sedation dentistry at his Menomonie, WI practice: nitrous oxide, IV sedation and local anesthetic. Patients who avoid receiving dental treatments due to dental fear and anxiety often experience positive results when given sedation before or during treatment.
Dental fear is a common occurrence among children and adults alike, and Dr. Trimble is pleased to now help alleviate fear of dental procedures by administering sedation dentistry in Menomonie, WI to his patients. In some cases, in-treatment sedation may be combined for best results when patients experience high levels of dental fear or anxiety.
Dr. Trimble utilizes three different types of sedation in his practice including nitrous oxide, IV sedation, and local anesthetic. Nitrous oxide is an odorless gas that is administered through a special mask during dental procedures. IV sedation is administered intravenously and causes a sensation of instantaneous relaxation. Patients who receive this form of sedation during their dental procedures are able to respond to verbal instructions, but most do not remember the experience once the sedation wears off. Local anesthetic is the most common form of sedation dentistry and is administered through a needle in order to numb the treatment site.
Dr. Trimble encourages patients with dental fear to learn about the benefits of sedation dentistry in Menomonie, WI. Patients who would like to schedule a treatment appointment with sedation are invited to call Dr. Trimble's practice during normal business hours at (715) 802-4360.
About The Doctor
Trimble Dental Excellence is a general practice offering personalized care for patients in Menomonie, WI. Dr. Bruce Trimble offers a variety of services, including advanced dental implants and sedation dentistry. Dr. Trimble is a graduate of the University of Minnesota and has dedicated his professional career to providing you with the best that dentistry has to offer. He is continually educating himself and his staff on the newest techniques and advances to offer you state-of-the-art, antiseptic, personalized & comfortable dental care. Dr. Trimble is a fellow of the International Congress of Oral Implantologists & the Misch International Implant Institute. He is also among the few dentists in Wisconsin who are licensed for IV sedation and has received a certificate from the Temple School of Dentistry for Surgical Oral Implantology. To learn more about the services offered at Trimble Dental Excellence, please visit their website, http://www.trimbledental.com or call (715) 802-4360 to schedule an appointment.