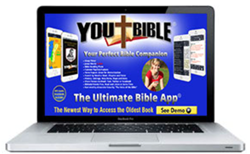 Experience the Bible... in a Whole New Way!
Tampa, Florida (PRWEB) February 13, 2016
The long awaited Audio Bible App for MAC and Windows Desktops has been released and is available at scourby.com. It has all the rich features as the other Audio Bible mobile Apps for iPhone and Android, which has long been the No. 1 Bible App on the market. Powerful features includes a playlist, sharing, reading plan and a full search engine.
One user stated, "The Playlist feature is the most comprehensive on the market and plays back verses in the Playlist with text and audio synced together. No other app can do that".
Another popular user feature is the bookmark and notes. One user had this to say, "Bible study is great with the Desktop Bible app, the full search feature, coupled with the bookmark and note feature, makes it ideal for Bible Study…and the Voice of the Bible, Alexander Scourby can't be beat as the narrator".
Another popular feature is the sharing feature and another user had this to say, "What's so cool about the sharing feature is the ability to create a group list, select a Bible verse, write a message, hit send and it goes out to the entire contact list. Get many nice comments back".
Click here to listen to a sample of Alexander Scourby as he narrates the selected passages from the Bible. Also see a demo of how the Bible App works. Users can download the newly released audio Bible App for MAC and Windows along with mobile apps and even mp3 audio Bible files for mp3 players from the web site.
Go to scourby.com and take test drive of the all new Ultimate Bible Desktop app and start experiencing the Bible in a whole new way.