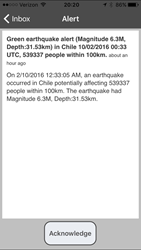 During this initial response and notification phase, information is often patchy and based on inaccurate sources or assumptions, stated Chris Brown
Chatham, New Jersey (PRWEB) February 12, 2016
Desktop Alert, Inc., the leader in mass notification and interoperable emergency communication systems, announced the availability of real-time access to global disaster information systems and related coordination tools.
Through partnerships with multiple global hazard monitoring organizations, Desktop Alert now offers its customers alerts and impact estimations during major disasters through a multi-hazard disaster impact service.
"During the first hours and days after a major sudden-onset disaster, the affected country and vast numbers of international actors collect and analyze information in order to plan their response. During this initial response and notification phase, information is often patchy and based on inaccurate sources or assumptions." stated Chris Brown, Desktop Alert's VP for Global Operations. "This often results in the general population lacking actionable information and duplication of response assets, overlap or even inappropriate response, occasionally associated with higher cost." continued Brown.
Desktop Alert's new service aims at rapidly disseminating information immediately follow sudden-onset disasters. These alerts are produced automatically using advances algorithms and scientific data available at the time. This allows Desktop Alert to provide alerts and notifications based on calculated risk, which the given event posses to the potentially affected population such as; the severity of the disaster, exposure of the population and infrastructure, and the vulnerability of the potentially affected country or countries.
About Desktop Alert: https://www.desktopalert.net
Desktop Alert is a leading provider of enterprise mass notification and emergency communications to the United States Department of Defense. Its innovative and patented software has been internationally recognized as the "Best Mass Notification" and "Best First Responder Interoperable Communications" system. Desktop Alert provides a suite of scalable, flexible, and adaptable communication, collaboration, and situational awareness tools in environments ranging from austere - no terrestrial infrastructure support - to fully modern with extensive IP and legacy system integration's. Desktop Alert allows individuals and organizations to increase the volume and velocity of information in order to ensure effective decision making, coordination, proactive community engagement, and public awareness.