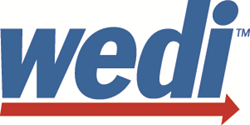 WEDI truly values the input of its members and the industry alike
Reston, Va (PRWEB) February 15, 2016
WEDI, the nation's leading authority on the use of health IT to create efficiencies in healthcare information exchange, announced the release of a survey to gauge industry feedback on the topics of the most interest to healthcare professionals. Specific topics related to the categories of healthcare administrative processes and efficiencies, operating rules, interoperability, privacy and security, and payment models will be measured. The survey results will be evaluated and used as a consideration for driving WEDI workgroup initiatives in the coming months.
Providers, health plans, vendors and clearinghouses are invited to participate in this survey anonymously, which is available here. The final submission deadline is March 11, 2016. Those that participate will receive a discount code for 15 percent off registration for WEDI's 25th Annual National Conference, taking place May 23-26 in Salt Lake City, Utah.
"WEDI truly values the input of its members and the industry alike," said Charles W. Stellar, interim president and CEO of WEDI. "Whether it be through surveys, roundtables or impromptu discussions at our conferences, WEDI is an organization that listens to the heartbeat of the industry and delivers educational resources and strategies that meet the needs addressed."
WEDI will continue to conduct surveys throughout 2016, and information collected from these surveys will help determine where additional outreach and education is needed.
About WEDI
The Workgroup for Electronic Data Interchange (WEDI) is the leading authority on the use of health IT to improve healthcare information exchange in order to enhance the quality of care, improve efficiency, and reduce costs of our nation's healthcare system. WEDI was formed in 1991 by the Secretary of Health and Human Services (HHS) and was designated in the 1996 HIPAA legislation as an advisor to HHS. WEDI's membership includes a broad coalition of organizations, including: hospitals, providers, health plans, vendors, government agencies, consumers, not-for-profit organizations, and standards development organizations. To learn more, visit http://www.wedi.org and connect with us on Twitter.
-###-
Press contact information:
Dave Anderson
678-401-2991
dave(at)andersoni(dot)com