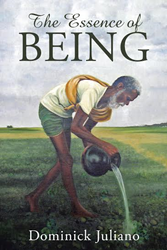 I traveled everywhere, looking for answers, when all I needed to do was look inside myself
Torrey, Utah (PRWEB) February 15, 2016
Dominick Juliano has lived a number of lifetimes, in many places, before ending up in this one. His current life journey has taken him across the United States, developing his body and spirit, in constant search of God and inner peace.
Juliano's new book, "The Essence of Being," is a spiritual guide to enlightenment and self-discovery. Juliano encourages readers to rid their minds of the "programming" they've been taught their entire lives, and open their minds to discovering the "true self." Through meditation and yoga practice, Juliano illustrates how God's message to everyone can be received, when one but "listens."
"We are programmed from the day we are born," Juliano said. "Through religion and cultural trends, our minds are imprinted with these false ideas of God. God is inside of us. We have to reprogram ourselves to hear his message to each of us."
Juliano claims he wrote the book to help awaken each person's spirituality, so that they can realize who they truly are. His autobiography takes readers through his life-long search for what he found was inside him all along.
"I've been all over the world, looking for God," Juliano said. "I traveled everywhere, looking for answers, when all I needed to do was look inside myself. He is there."
For more information, visit: http://www.balboapress.com.
The Essence of Being
By Dominick Juliano
ISBN: 978-1-50433-932-2
Available in softcover, hardcover, e-book
Available at Amazon, Barnes & Noble, and Balboa Press
About the author
From Manhattan to Santa Monica, to Las Vegas, Europe, and beyond, Dominick Juliano has spent his life developing both body and spirit. He was a craps dealer, worked in show business, ran a bakery, published macramé books, and sailed the Mediterranean Sea. Today, he and his wife reside in southern Utah. This is his first book.
# # #
For review copies or interview requests, contact:
Lindsey Gobel
317.435.2116
lgobel(at)bohlsengroup(dot)com