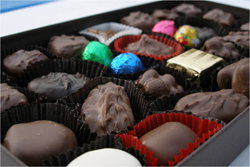 Each chocolatier makes wonderful, hand-crafted chocolate from family recipes and originally researched and developed formulas.
Franklin County PA (PRWEB) February 12, 2016
As Valentine's Day draws closer and closer, why not fall back on the old stand-by—a heart-shaped box of chocolates filled with the delicious handmade chocolate candy from one of Franklin County's excellent chocolatiers.
Pennsylvania is well-known for Hershey's milk chocolate, but Franklin County, Pennsylvania--Hershey's neighbor to the south—has fresh, small-batch chocolate, made by five excellent chocolatiers throughout the county. Each makes wonderful, hand-crafted chocolate from family recipes and originally researched and developed formulas, and are ready to share their craft for an especially delicious Valentine's Day.
Olympia Candy Kitchen, a fixture of Main Street Chambersburg since 1903, uses three-generations of family recipes to make mouth-watering confections like pecan turtles, peanut butter truffles, and almond bark. A favorite Valentine's gift are Olympia's hand-dipped chocolate strawberries, which are available February 13-14.
Another Chambersburg chocolatier is Nathan Miller Chocolate, which started making chocolate in 2010 and opened a candy and pastry shoppe in Chambersburg in 2013. Located in a converted warehouse on 3rd Street, Nathan Miller takes chocolate from bean-to-the-bar. Nathan Miller's 72% Peru Chocolate Bar is rated among the top five U.S. "from bean-to- bar" chocolate bars by the New York Times. Nathan Miller offers three varieties of five-bar single origin collections with chocolate from Peru, Belize, Madagascar, and Ghana. In time for Valentine's 2016, Nathan Miller is offering the Buttermilk Chocolate Collection, Dark Chocolate & Inclusion Collection, and Dark Chocolate Collection.
In the 1940s, another Franklin County resident Mary Meyers Gibble started making chocolates and taking them to area farmers markets. This was the beginning of the Greencastle candy-maker Mrs. Gibble's Candies. Nearly 70 years later, Mary's daughter Vernice is still using the same recipes. The Valentine special--available February 10-14--is strawberries dipped in a choice of dark, milk, or white chocolate, packaged in a long-stem rose box, with a mini heart card and ribbon.
The Candy Kitchen and Zoe's Chocolate Co. anchor southern Franklin County's sweetest industry. Both are located on the square of Waynesboro. The Candy Kitchen began operations in 1902 and has produced—literally—tons of chocolate confections. The Candy Kitchen's sea-salt caramels are a good surprise for Valentine's Day. Opening in 2007, Zoe's Chocolate Co. is another family-operated business. The good word about Zoe's candies spread quickly, and Zoe's chocolates traveled to the Emmy Awards and the Oscars. Zoe's makes use of this time of year to show off its "Love" line, including Love in a Bar, Love on a Stick, Love in a Cup, Love in a Box, Love in a Big Box, or Love in a Big Big Box.
The Franklin County Visitors Bureau invites all to enjoy Valentine's Day in Franklin County PA and explore trails of history, arts and architecture, recreation, natural beauty, fresh foods and the warm hospitality of communities like Chambersburg, Greencastle, Mercersburg, Shippensburg, and Waynesboro. Franklin County PA is located just north of the Mason Dixon Line and is an easy drive to Washington DC, Philadelphia, and Pittsburgh. Discover more....plan a visit soon at ExploreFranklinCountyPA.com or by contacting 866.646.8060.